What do the names Cable, Cabbage, Saddle Cay, Xanadu, Ten Bay, Pink Sands, Tahiti, Stocking Island and Cat Island have in common? They're some of the Bahamas most famous beaches that you've probably read about in a novel or watched on your favorite travel channel.  Indeed, with hundreds of beaches, it's hard to pick the top beaches in Bahamas but here is an overview of a few which are especially popular among tourists.
Cable Beach is a sandy 4 mi (6.5 km) strip located on New Province Island. It is particularly popular because it provides easy access to a number of shops, casinos and restaurants. Water sports are plentiful too with a number of activities for children and adults alike, ranging from mildly adventurous to adrenalin pumping.  
By contrast, Cabbage Beach is accessible only on foot or by boat all along its 1.9 mi (3km) long sand stretch. Located on Paradise Island, this beach is artistically lined with palms, sea grapes and casuarina trees. Thronged by sunbathers during the day, the beach is frequented by party goers once the sun sets on a late night party.
Stocking Island is famous for its pristine white sands. Lying just off Elizabeth Harbor near George Town in Exuma, its beaches remain relatively less populated than neighboring ones. It's a top choice among scuba diving and snorkeling enthusiasts and also allows for a fantastic deep sea diving experience into its crystal clear waters. In fact, the island is famous for its blue holes, coral gardens and undersea caves that are definitely worth exploring.
The romantic Tahiti Beach is a favorite amongst honeymooning couples who particularly enjoy the secluded charm of this beach that lies about 7.5 mi (12 km) away from the main city area in the northern coast.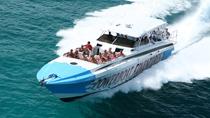 73 Reviews
Leaving the hustle-bustle of Nassau behind, take a high-powered cruise to your own private island in the Exuma chain. You'll ride a powerboat to Allens Cay to ... Read more
Location: Nassau, Bahamas
Duration: 9 hours (approx.)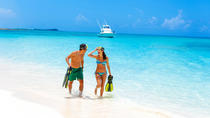 81 Reviews
Take to the waters and cruise to a remote tropical island on this day trip from Nassau! Spend the day snorkeling in the crystal-clear Bahamian waters, relaxing ... Read more
Location: Nassau, Bahamas
Duration: 5 hours 30 minutes (approx.)
2 Reviews
Welcome to the hottest new activity to hit the shores of Nassau Bahamas. 5 Incredible island stops in one amazing day! Your journey will take you a full 150 ... Read more
Location: Nassau, Bahamas
Duration: 8 hours 30 minutes (approx.)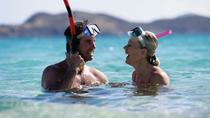 127 Reviews
Ever wanted to snorkel with sharks? On this adventure you'll swim with schools of colorful fish in the shallows of Nassau's famous reefs. Then, if your fellow ... Read more
Location: Nassau, Bahamas
Duration: 5 hours (approx.)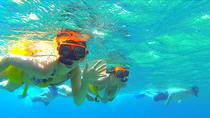 74 Reviews
While you're in Freeport, visit secluded Paradise Cove with this convenient day pass with round-trip transport. Spend the day however you wish at this ... Read more
Location: Freeport, Bahamas
Duration: Varies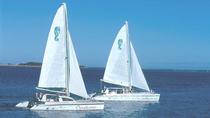 24 Reviews
Enjoy an afternoon of snorkeling, sailing, and sunning aboard a state of the art catamaran! You'll sail out to one of the Islands most beautiful reefs teeming ... Read more
Location: Nassau, Bahamas
Duration: 3 hours (approx.)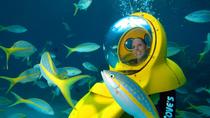 72 Reviews
Take an underwater cruise in your own submarine! Perfect for swimmers and non-swimmers alike, you'll zoom effortlessly around the coral gardens on your SUB ... Read more
Location: Nassau, Bahamas
Duration: 5 hours (approx.)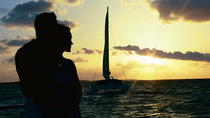 26 Reviews
This Nassau sunset dinner cruise is a truly unique experience. Relax in a casual atmosphere on a sailing catamaran while sitting on the nets or mingling around ... Read more
Location: Nassau, Bahamas
Duration: 2 hours (approx.)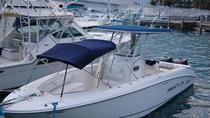 Join on this private, half-day charter onboard the 27ft Dream Life. You are in control so you can fully customize your charter to fit your needs. You're able ... Read more
Location: Nassau, Bahamas
Duration: 4 hours (approx.)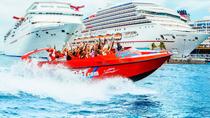 1 Review
Fun, exciting, safe and worth it! The jet boat experience is an exhilarating way to take pleasure in the crystal blue waters of Nassau, Bahamas. Come on board ... Read more
Location: Nassau, Bahamas
Duration: 90 minutes (approx.)