Tree of Life Tours
The Tree of Life is a lone mesquite tree that stands in the desert atop a sandy hill near the highest point in Bahrain. Approximately 400 years-old and standing at almost 10 meters tall, the tree has continued to grow despite the extreme temperatures and lack of any apparent water source for miles around.
The tree's source of water is a mystery and the fact that it has thrived for so long has made it something of a mystical legend in Bahrain. The locals believe that the tree is looked after by Enki, the mythical God of water, and some believe that it is the last vestige from the Garden of Eden. Presumably, the old tree has tapped into an underground spring somewhere, a feat of nature that is impressive even without the legends and myths.
Both its age and location make the Tree of Life a true natural survivor, although the sheer volume of visitors it attracts might be its eventual downfall; spray paint and etchings are clearly visible on its old bark, and a protective circular fence now surrounds the tree in an attempt to preserve it.
The best way to see the Tree of Life is to join a short tour that also takes in other attractions in the desert, including the Sheikh Salman Bin Ahmed Al-Fateh Fort and the first ever oil well, plus the Oil Museum next to it.
Practical Info
The Tree of Life is located in the desert around a 45-minute drive from Manama. The best way to reach it is as part of an organized tour, but if driving yourself, take the Zallaq Highway heading east, which becomes the Muaskar Highway. Take a right turn by Khuff Gas Well 371 and then turn right again along the power lines. Be careful not to drive in the soft sand.
Did You Know? Since 2010, archaeologists have discovered pottery and other artifacts in the vicinity of the Tree of Life, some of which is thought to date back to the Dilmun era.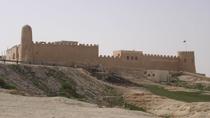 Join this 4-hour tour beginning at 9am, and travel on a journey that takes you back to 1812. Visit Sheikh Salman Bin Ahmed Al-Fatih Fort, the very first oil ... Read more
Location: Manama, Bahrain
Duration: Flexible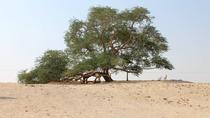 3 Reviews
This tour features the oil history and wildlife of Bahrain. On this tour visit Jabel Al Dukhan, The Tree of Life, Al-Areen Wildlife Park (Sanctuary) and have a ... Read more
Location: Manama, Bahrain
Duration: 4 hours (approx.)