The island of Menorca (or Minorca), known for its intensely scalloped coastline and wildlife-rich scenery protected as the UNESCO Menorca Biosphere Reserve, is the choice for those seeking a more peaceful Mediterranean escape. The capital, Máo, has a variety of dining and nightlife options, but many fantastic coves are overlooked only by peaceful resorts and quiet seafood restaurants, perfect for families and lovers.
This island has always appealed to independent souls, since its Stone-Age inhabitants built their taulas (table monoliths) and talaiots (towers) not found elsewhere in the Balearics. Today, Menorca's islanders still speak their own language (Menorquín) and were the first to grant legal rights to non-human apes.
Adventurers who make the trip will find their efforts rewarded with fine foods (try the lobster stew and artisanal cheeses) and better beaches, from endless Son Bou to posh Punta Prima, with plenty of other perfect playas for everyone.
Practical Info
Menorca, the second largest island in the Balearics and home the world's second-largest deepwater port, is easily accessible by ferry via the capital city of Máo (Barcelona, La Palma de Mallorca, and Valencia) and the second city of Ciutadella (Alcúdia de Mallorca).
Mahón Airport (MAH) serves several destinations during the May to October high season, including Amsterdam, Berlin, Cardiff, Cologne, Frankfurt, Hamburg, London, Munich, and Prague. During low season, however, you may need to go through Spanish aiports, including Barcelona, Bilbao, Girona, Ibiza, La Palma de Mallorca, Madrid, and Zaragoza.
The island's inexpensive, comprehensive bus system is easy to use, though there may be fewer buses on weekend, particularly during low season. Taxis are common as well.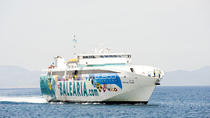 2 Reviews
Book this full day experience departing from Alcudia port in Mallorca towards the incredible island of Menorca. Spend the day as you wish, visiting its main ... Read more
Location: Palma de Mallorca, Spain
Duration: Flexible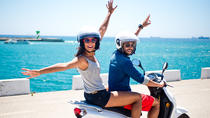 Do not miss out all the secret corners of Minorca with renting a scooter at the best prices on the whole island and have fun! Cooltra is a company specialized ... Read more
Location: Menorca, Spain
Duration: Flexible