Museum Gedung Arca (Museum Arkeologi) Tours
The Gedung Arca Museum, also called Gedong Arca Purbakala or Museum Arkeologi, is a government run archeological museum in the village of Pejeng. It houses many interesting archeological finds discovered around Bali, which range from Paleolithic tools originating in the stone and bronze ages to artifacts left behind by Indian and Chinese traders. Apart from an assortment of ceramics, the many spear heads, bracelets, plates and pots, the museum is especially famous for the collection of stone-sarcophagi in the form of turtles, animals that have always been looked upon with great reverence in Bali. These huge coffins, some over 3 meters long, were made out of two pieces of hollowed out stone and fitted together precisely. Around 2,500 years ago, they were used as extravagant caskets for the more important members of society, such as clan chiefs. To show the circle of rebirth, the dead were laid to rest in a crouching position and given elaborate burial objects, for example weapons and jewelry, that were often excavated together with the sarcophagi.
If you are heading to Gedung Arca, make sure to not miss another important archeological relict housed in a shrine nearby. According to a Balinese legend, this drum called "the Moon" was the wheel of a chariot pulling the moon, which simply fell from the sky one night. Archaeologists on the other hand believe it was made by the Dong Song people around the same time the turtle sarcophagi were popular and "the Moon" is to this day the largest single piece kettledrum in the world, as well as the biggest relic from the Bronze Age found in Southeast Asia.
Practical Info
Museum Gedung Arca is open from Saturday to Thursday from 8am to 3pm and on Friday from 8am to 12:30pm. You can find it on the main road from Bedulu to Pejeng, right in between those two towns and about 7 kilometers from Ubud.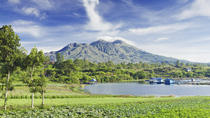 35 Reviews
Head to the mountains of Kintamani to view the volcano of Mt Batur and its beautiful surroundings. You'll get to know some of Bali's best cultural sites and ... Read more
Location: Bali, Indonesia
Duration: 8 hours (approx.)