Snorkeling and Scuba Diving in Bali
By Viator, January 2018
The waters just off the coast of Bali are biologically diverse and often enjoy excellent visibility. With dozens of dive sites catering to all ability levels, Bali is a great place to go diving or snorkeling, or to learn how to dive if you've never been before.

If you're staying in or around Kuta, the most convenient diving area is near Sanur. These beginner-friendly dive sites offer shallow coral reefs with abundant fish life. It's also possible to spot white tip reef sharks in the area.

Many experienced divers come to Bali to see the magnificent Mola Mola, or sunfish. These large and very strange looking fish prefer the open waters, and the best time to see them is from July to October, particularly at the dive sites around Nusa Penida -- about 40 minutes from Sanur.

Many of Bali's world class dive sites are also great for snorkelers, so if you're traveling as a family with some divers and other non-divers or children, you can still enjoy a day in the water together at the same site.

One great family friendly option is a Bali Reef Cruise to Lembongan Island. The island, located just southeast of Bali, is lined with beautiful beaches, mangrove forests and colorful reefs. Once you arrive, enjoy a day of diving, snorkeling, banana boat rides, parasailing or simply relaxing on a beach.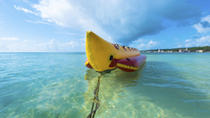 32 Reviews
Experience the unspoilt charms of the peaceful tropical island of Lembongan. Transfer in comfort to Lembongan Island aboard the luxury catamaran 'Bali Hai II' ... Read more
Location: Bali, Indonesia
Duration: 8 hours (approx.)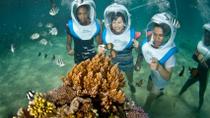 75 Reviews
Escape Bali for a day and spend it on the turquoise waters of Nusa Lembongan, a small, low, protected island about 7 miles (11 km) southeast of Bali, just ... Read more
Location: Bali, Indonesia
Duration: 8 hours (approx.)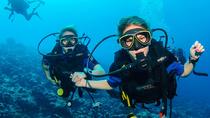 1 Review
Designed to accommodate all diving levels, from complete beginners to advanced ocean explorers, this 10-hour scuba diving tour takes you to the spectacular ... Read more
Location: Kuta, Indonesia
Duration: 10 hours (approx.)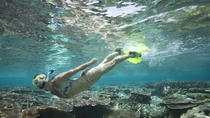 2 Reviews
Situated in the area for boat crossings from Bali to Lombok; Padangbai offers easy access to snorkeling locations serviced by 'jukungs' -the traditional ... Read more
Location: South Denpasar, Indonesia
Duration: 8 hours (approx.)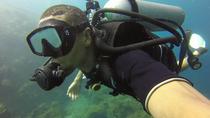 11 Reviews
Enjoy a dive at the famous USS Liberty shipwreck that underwater photographers and videographers alike love. This is a shore based dive, located at Tulamben, a ... Read more
Location: South Denpasar, Indonesia
Duration: 1 day (approx.)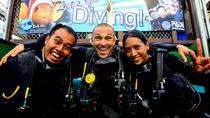 Learn to dive on this fantastic full day, small group, beginner's diving tour to the tropical paradise island of Nusa Lembongan. You will take your first ... Read more
Location: South Denpasar, Indonesia
Duration: 8 hours (approx.)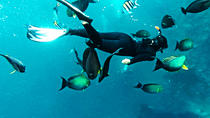 7 Reviews
Unlike other places for snorkeling, Tulamben offers unique underwater scenery visible from the surface: the USAT Liberty shipwreck. The ship has been sunken ... Read more
Location: South Denpasar, Indonesia
Duration: 1 day (approx.)
Tulamben is one of the most famous dive sites for certified divers fascinated about wreck diving. Here we can see the USAT Liberty shipwreck as well as other ... Read more
Location: Denpasar, Indonesia
Duration: 7 to 9 hrs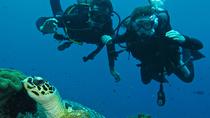 Join us for an exciting 1-day scuba diving experience and discover the amazing world that lies beneath the water surface. This fun and safe activity is ... Read more
Location: Manggis, Indonesia
Duration: 5 hours (approx.)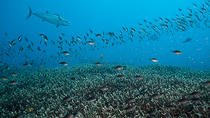 Enjoy snorkeling over the lively tropical coral reefs of Padang Bai with a local guide with this 4-hour small-group snorkeling session. Plenty of reef fish ... Read more
Location: Manggis, Indonesia
Duration: 4 hours (approx.)