Moraine Lake Tours
Surrounded by the dramatic Valley of the Ten Peaks, Moraine Lake has to be one of the most photographed spots in Canada. The iconic blue lake is like a giant bathtub, filling up with melted glacier water in early summer until it reaches its apex in mid to late June. But why is Moraine Lake so vividly blue? That'll be the refraction of light off the glacial rock flour (tiny particles) in the lake.
Featured in countless National Geographic issue as well as on Canada's $20 bill from 1969 to 1979, Moraine Lake and its backdrop of snowcapped peaks is world-famous. Half the size of Lake Louise but perhaps even more picturesque, the lake is best seen at sunrise or sunset, when the surrounding mountains are colored pink and reflected in Moraine's cool blue waters. The main viewpoint is from the shoreline Rockpile trail, which makes a great route for a gentle stroll. If you fancy getting out and about on those icy waters, canoes are available to rent at the Moraine Lake Boathouse.
Practical Info
Nine miles from Lake Louise, Moraine Lake can be reached via Moraine Lake Road. As Moraine Lake is 1,885 meters above sea level and in the heart of the Canadian Rockies, snow and ice limit the road to being open only from June until early October. In the winter months, however, visitors can cross-country ski along Moraine Lake Road. There are no campsites in the area, but there is an upmarket hotel to stay in at Moraine Lake Lodge.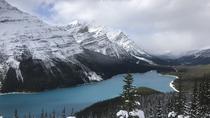 4 Reviews
The Lake Louise Parkway contains some of the best scenery Canada has to offer. With stunning views of snow-capped peaks, crystal clear mountain lakes, ... Read more
Location: Banff, Canada
Duration: 8 to 8.5 hrs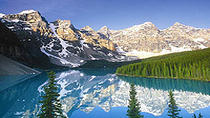 156 Reviews
Experience the beauty of the Canadian Rockies, with its backdrop of the glistening Victoria Glacier, on a full-day guided coach tour from Banff. Marvel at ... Read more
Location: Banff, Canada
Duration: 9 hours 30 minutes (approx.)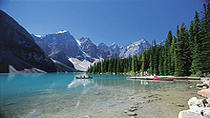 60 Reviews
Discover Canada's beautiful mountain lakes and waterfalls during this day trip from Calgary. Explore Banff National Park and visit Lake Louise, the 'Jewel of ... Read more
Location: Calgary, Canada
Duration: 14 hours (approx.)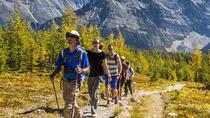 18 Reviews
Get out in Canada's crisp mountain air on one of these four iconic hikes in the Banff and Lake Louise areas of Alberta. The Canadian Rockies offer a dramatic ... Read more
Location: Banff, Canada
Duration: 7 hours (approx.)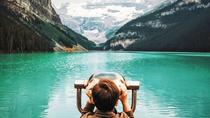 8 Reviews
Explore Banff National Park easily and at your own pace with the knowledge of a guaranteed seat on the buses. Get everywhere you want to go easily and without ... Read more
Location: Banff, Canada
Duration: Flexible