Wildlife in Banff National Park
By Viator, September 2014
Wildlife runs rampant in the Canadian Rockies and few places offer better viewing opportunities than Banff National Park. Elk, moose, Mountain goats, Big Horn sheep, Grizzly and Black bears are often spotted along the park's many roadways, while wolves, wolverines, and mountain lions only occasionally wander into view.
An evening wildlife safari in Banff is the surefire way to discover wildlife. Not only do the guides know where to look, but they're also well versed about animal behaviors and Parks Canada's conservation efforts. For visitors determined to see wildlife on their own, follow this roadmap to wildlife in Banff National Park:
Lake Minnewanka Loop Road
– According to Mary Morrison, from Banff Lake Louise Tourism, the Lake Minnewanka Loop Road is a safe bet for big horn sheep and mountain goats.
It's also close to town, requiring as little as 30 minutes – without wildlife stops - to complete the entire loop.
Vermillion Lakes Road
– Another location close to town, the Vermillion Lakes Road is Banff's best place to see elk. As the largest species of deer, bull elk are easily identified by their massive antlers.
Bow Valley Parkway
– Stretching 30 miles (48 kms) between Banff and Lake Louise, the Bow Valley parkway seems a lifetime away from the TransCanada highway it parallels.
Both Black and Grizzly bears are spotted along this roadway, but it's also common to see elk and moose.
Lake Louise Gondola
– Throughout the summer, Lake Louise Ski Area becomes prime Grizzly habitat and there is no better – or safer – place to discover Grizzly Bears in the Canadian Rockies. Sightings occur almost daily, but anyone who misses out on bears won't be disappointed. The views from the Lake Louise Gondola alone are worth the trip.
For visitors eager to see or photography wildlife, it's important to remember a few ground rules:
Never feed or approach wildlife.
Never follow animals into the forest.
If stopping in a vehicle, pull onto the shoulder of the road before stopping.
Animals are most commonly seen during early mornings and late evenings.
When hiking, carry bear spray at all times and know how to use it.
Parks Canada suggest staying 330 feet (100 m) from bears, 660 feet (200 m) from wolf or coyote dens, and 100 feet (30 m) from other large species.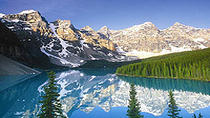 113 Reviews
Experience the beauty of the Canadian Rockies, with its backdrop of the glistening Victoria Glacier, on a full-day guided coach tour from Banff. Marvel at ... Read more
Location: Banff, Canada
Duration: 9 hours 30 minutes (approx.)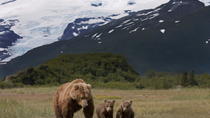 58 Reviews
Wildlife lovers and nature enthusiasts, this small-group safari in Banff is for you. On this 2-hour wildlife tour, explore a variety of Banff's beautiful ... Read more
Location: Banff, Canada
Duration: 2 hours (approx.)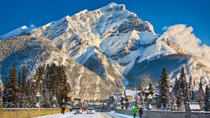 3 Reviews
Join a personalized small-group tour and discover beautiful Banff in the winter! Over three hours, your local guide will point out all the landmarks and ... Read more
Location: Banff, Canada
Duration: 3 hours (approx.)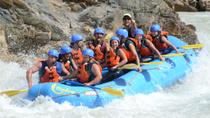 16 Reviews
Whitewater rafting is the ultimate summer outdoor activity and the Kicking Horse River is the best river in the Canadian Rockies! With your transport ... Read more
Location: Kicking Horse River, BC
Duration: 4 hours (approx.)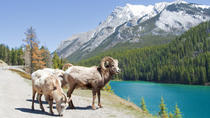 18 Reviews
Discover glorious Banff in the summertime on a 3-hour tour. Visit famous landmarks and historic places with your local guide. This small-group tour allows ... Read more
Location: Banff, Canada
Duration: 3 hours (approx.)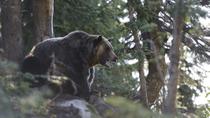 Animal lovers, don't miss your chance to discover the grizzly bear! Leaving Banff behind, you'll take a ride in a gondola for a great view of grizzly country, ... Read more
Location: Banff, Canada
Duration: 10 hours (approx.)