457 Reviews
Address:

Chao Phraya River, Bangkok, Thailand

Admission:

Free
Chao Phraya River (Mae Nam Chao Phraya)
The Chao Phraya River (Mae Nam Chao Phraya) has always played a significant role within the city it flows through and remains the lifeblood of Bangkok to this very day, with passenger ferries, long-tail boats and slow barges laden with cargo making their way along the river daily. Most of the city's main attractions are easily accessible from various points along its winding waterways, meaning visitors can also find great views from the water.
Escaping the traffic-clogged streets of Bangkok, a boat trip along the river reveals a mixture of skyscrapers, ancient temples and modern hotels set along the banks, providing a fresh perspective of the city, its residents and its key landmarks. Travelers will also witness just how important the river area is for locals, with wooden shacks jutting out over the water, kids splashing around and food vendors serving noodle soup to passing workers. This blend of the modern and the traditional is just one of the factors that makes the Chao Phraya River so charming and unique to Bangkok.
There are numerous ways to experience the river, with many boat tour options that take in Bangkok's most important temples. Visitors can board a rice barge and learn about local life around the river, or hop aboard a motorized vessel to take in more of the major city sights. Travelers can also stay firmly on dry land and still see the river on a loop around the area via tuk tuk or bicycle tour. One of the most popular ways to experience the Chao Phraya River is on a nighttime dinner cruise, where you can listen to a live band while feasting on traditional Thai dishes and watching the twinkling lights of Bangkok's skyline pass you by. 
Practical Info
The Chao Phraya River splits Bangkok vertically into two areas and serves as popular way to navigate the city. There are various ferries and tourist boats serving different parts of the river, but understanding their schedules and routes can become confusing. To save time, book a tour in advance to ensure you don't miss anything on your list.
Did You Know? When the capital of Thailand moved to Bangkok at the beginning of the Rattanakosin period, the new capital was dubbed "the Venice of the East" by European visitors for its many canals.
The lights and sounds of Bangkok give the Thai capital a brand-new persona when gently sailing aboard one of the leading dinner cruises on the Chao Phraya ... Read more
Location: Bangkok, Thailand
Duration: 105 minutes (approx.)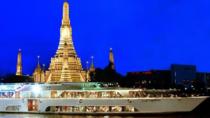 4 Reviews
Take in Bangkok's spectacular sights by night on a dinner cruise from the River City pier. Relax with a drink in hand as the boat makes it way between the ... Read more
Location: Bangkok, Thailand
Duration: 4 hours (approx.)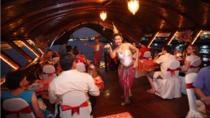 4 Reviews
Cruise the Chao Praya River through the cultural heart of Bangkok, aboard a luxury rice barge. Dine on traditional Thai cuisine with flavors from around the ... Read more
Location: Bangkok, Thailand
Duration: 4 hours (approx.)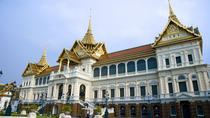 Cruise the mighty Chao Phraya River, to Thonburi and watch the morning life on the waterway unfold as you make your way to The Grand Palace of Bangkok. With ... Read more
Location: Bangkok, Thailand
Duration: 5 hours 30 minutes (approx.)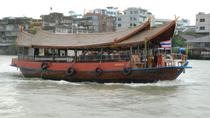 7 Reviews
Cruise down the Chao Phraya River and winding canals of Bangkok on board an authentic long-tailed speedboat. Watch the everyday lives of the local Thai ... Read more
Location: Bangkok, Thailand
Duration: 4 hours (approx.)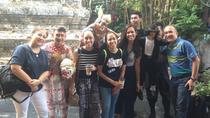 Spend a full-day tour seeing the major landmarks on your private tour. Stop at the Emerald Buddha Temple, The Grand Palace, and the Reclining Buddha Temple. ... Read more
Location: Bangkok, Thailand
Duration: 7 hours (approx.)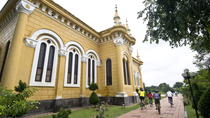 Explore the World Heritage–listed Historic City of Ayutthaya by bike on a full-day tour from Bangkok including lunch. This easy ride around the ancient capital ... Read more
Location: Bangkok, Thailand
Duration: 11 hours (approx.)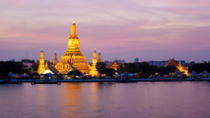 444 Reviews
Enjoy Bangkok at night on a 2.5-hour dinner cruise along the Chao Phraya River. See two of the city's top attractions — the Temple of Dawn (Wat Arun) and the ... Read more
Location: Bangkok, Thailand
Duration: 2.5 - 3 hours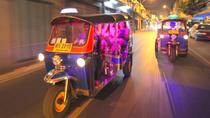 173 Reviews
Ride a tuk-tuk past Bangkok's iconic sites as you tour the city at night. This 4-hour tour loops along the Chao Phraya River, stopping at several temples and ... Read more
Location: Bangkok, Thailand
Duration: 4 hours (approx.)
7 Reviews
Enjoy a romantic dinner aboard the Grand Chaophraya Cruise for a memorable 2-hour experience. Soak in the beautiful night scenery along the Chaophraya River in ... Read more
Location: Bangkok, Thailand
Duration: 2 hours (approx.)