Giant Swing (Sao Ching Cha) Tours
Arching in front of the sacred Wat Suthat in Bangkok, what is left of the Giant Swing (Sao Ching Cha) is a tall teak structure that once supported a giant seat used during Brahman festivals to honor the god Shiva. The landmark is often spotted on walking and biking tours through Bangkok.
During the festivities, participants would swing in arcs in an effort to reach a bag of gold suspended from a bamboo pole, an act that was believed to encourage a good harvest. A black-and-white photograph illustrating the ceremony can be found at Wat Suthat's ticket counter nearby.
Constructed toward the end of the 18th century by King Rama I, the swing was later damaged by lightning during the reign of Rama II. In 1920, it was renovated and moved to its current location in front of Wat Suthat. However, there were so many injuries and even accidental deaths that the ceremonies were discontinued for good by the end of the 1930s. In 2007, the Giant Swing was replaced with the current model, while the previous version was moved to the National Museum.
Practical Info
Wat Suthat and the Giant Swing are located to the east of the Grand Palace on the route that leads to the Golden Mount (Wat Saket).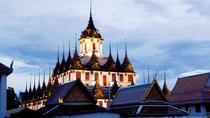 6 Reviews
Travel like a local on a tuk-tuk ride through Bangkok, and make use of rivers and canals to discover hidden treasures in the city. Explore historical quarters ... Read more
Location: Bangkok, Thailand
Duration: 5 hours (approx.)
For adventurous lovers of city exploration, experience the hop on/off excitement of a tuk-tuk ride through Bangkok in half day, to visit hidden places in the ... Read more
Location: Bangkok, Thailand
Duration: 4 hours (approx.)
Experience the heart of Bangkok on a 10 km running tour. Join a local running guide and experience all the Must See sights of Bangkok Old Town.
Location: Bangkok, Thailand
Duration: 2 hours (approx.)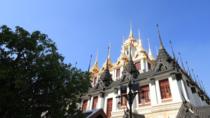 1 Review
Explore the royal city of Bangkok on on foot with a professional guide who points out the features of several landmarks. See the Golden Mount at Wat Saket, the ... Read more
Location: Bangkok, Thailand
Duration: 3 hours 18 minutes (approx.)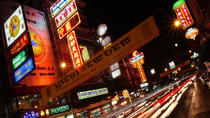 2 Reviews
Wat Suthat, the Giant Swing, and Democracy Monument are among the sights you'll see on a walking tour, followed by dinner at Hotel De Moc and a 1.5-hour tram ... Read more
Location: Bangkok, Thailand
Duration: 5 hours (approx.)