Bangkok's floating markets have been drawing visitors in for decades, but their origins go back much further to a time when there was simply no trade without the waterways. Today, Bangkok's best loved floating markets entice tourists and locals with their colourful mix of wares and a glimpse into Thailand's agricultural past. 
Taling Chan Floating Market
Situated just 15km or so to the west of Bangkok, Taling Chan is the nearest floating market to the city, and is small enough for visitors to observe a local way of life. It offers an authentic experience where you can mingle with the locals as you shop for fresh fruits and vegetables grown in gardens nearby. Once you've had enough of shopping, find a quiet spot and enjoy some traditional 'boat noodles' or fresh seafood, before hopping on a long-tail boat trip through the neighbouring canals.
Amphawa Floating Market 
The floating market at Amphawa is much larger than Taling Chan, and located just over 70kms from Bangkok. Unlike the other floating markets in the region, Amphawa is an evening market operating on Fridays, Saturdays and Sundays – usually from 4pm to around 9pm. Food is king at Amphawa, and this is apparently where 'boat noodles' originated. Watch as local vendors paddle by, their boats overflowing with an assortment of foods – from boat noodles and phat thai to traditional Thai style coffee and desserts. When the sun goes down, hire a boat and watch the place light up as you drift along the waterways.
Damnoen Saduak Floating Market
The Damnoen Saduak floating market is open every day and is the main attraction when it comes to Bangkok's floating markets. To get the most out of your visit get there early, before the heat and the crowds become too much. The best way to do this is to jump on a day trip tour with an early start time in Bangkok. (Many tours tag on trips to the River Kwai and the Rose Garden nearby, which are both well worth a visit.) The Damnoen Saduak floating market is where you'll experience first-hand those infamous images of throngs of traditional long-tail boats, laden with fruits and vegetables, paddled by local women in traditional wicker hats. This is truly a place to surrender to the atmosphere, camera at the ready as you eat, shop and bargain your way around the best of Bangkok's floating markets.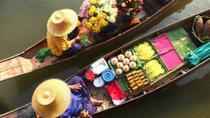 5 Reviews
Visit Damnern Saduak Floating Market outside Bangkok and experience the traditional way of buying and selling fruits and vegetables in the city. Continue to ... Read more
Location: Bangkok, Thailand
Duration: 1 day (approx.)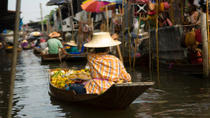 193 Reviews
Combine a cruise through the Floating Markets with a visit to Bridge on the River Kwai on this full-day guided tour from Bangkok. With the knowledge of your ... Read more
Location: Bangkok, Thailand
Duration: 10 hours (approx.)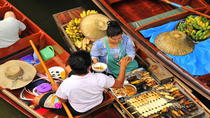 80 Reviews
This guided journey commences with a leisurely drive out of Bangkok, passing through salt fields and rice paddies, before embarking aboard your long tail ... Read more
Location: Bangkok, Thailand
Duration: 10 hours (approx.)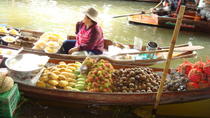 374 Reviews
Experience rural Thai culture and explore the canal waterways outside the capital on this 6-hour day trip to the Damnoen Saduak floating markets from Bangkok. ... Read more
Location: Bangkok, Thailand
Duration: 6 hours (approx.)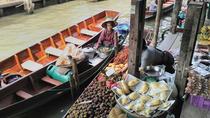 129 Reviews
Take a private tour to get a glimpse of everyday life on the water in Thailand. Cruise along the Bangkok canals in a narrow, long-tailed motorized boat ... Read more
Location: Bangkok, Thailand
Duration: 6 hours (approx.)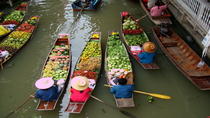 19 Reviews
This privately guided, full-day excursion out of Bangkok is a wonderful way to maximize your time to experience the amazing floating markets of Thailand as ... Read more
Location: Bangkok, Thailand
Duration: 9 hours (approx.)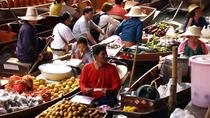 8 Reviews
Head out of Bangkok for a day of Thai culture and activities on this private day trip with your own personal guide. Visit the famous Damnoen Saduak Floating ... Read more
Location: Bangkok, Thailand
Duration: 9 hours (approx.)