Barbados is a hot destination among tourists for more reasons than just beautiful beaches, great people and duty-free shopping! Here's a quick guide on how to make the most of your Caribbean holiday.

Day 1: Explore

What better way to start off your Caribbean escapade with the Best of Barbados Tour?  Journey through Harrison's Cave to the island's rolling green hills and get treated to the beautiful landscapes and sights that make Barbados a perfect holiday destination. After a quick local lunch, continue on to the wildlife reserve where you'll have a chance to see and feed the island's famous green tail monkeys. Finish the day with a relaxing sail down the crystal waters of the west coast where you can snorkel with native green sea turtles and explore colorful coral reefs and shipwrecks.

Day 2: Cultural Extravaganza

Immerse yourself in Barbadian culture on the Just BIM Tour. Your tour begins at a local pottery shop where you learn about the many arts and crafts unique to Barbados. Next, walk though the tropical splendor of Flower Forest before embarking on a scenic drive ending at Bathsheba. After an exciting lunch, the tour continues to historical stops like the plantation at St. Nicholas Abbey (which maybe the last authentic 17th century house in North America) and the six-acre Andromeda Botanical Gardens, home to over 600 different species of flora.
 
Day 3: Sun, Sand, Sea…

On your third day in Barbados it's time to venture into the water! Experience the mystery of the deep seas from the comfort of the Atlantis Submarine Expedition.  The submarine descends up to 150 feet under water to reveal mystifying corals, marine life and shipwrecks as your knowledgeable pilot narrates tales of days gone by. Spend the evening relaxing on Brandons beach on the outskirts of Bridgetown where you can watch the sun melt into the turquoise seas or even tour the local rum factory.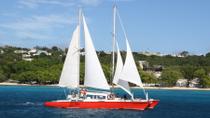 55 Reviews
Take a fun and relaxing catamaran cruise along the west coast of Barbados! On board a spacious schooner, sail to two or three different snorkeling spots, where ... Read more
Location: Barbados
Duration: varies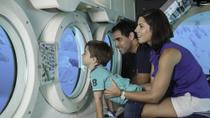 51 Reviews
Come experience the adventure of a lifetime on board the Atlantis Submarine! Your adventure begins at the Shallow Draught where you will have time to browse ... Read more
Location: Barbados
Duration: 2 hours (approx.)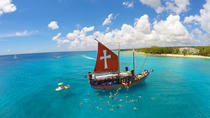 26 Reviews
Snorkel over shipwrecks in Carlisle Bay and swim with sea turtles in Payne's Bay on this lunch cruise in Barbados. Hop aboard the 'Jolly Roger' schooner for 4 ... Read more
Location: Barbados
Duration: 4 hours (approx.)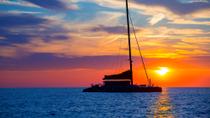 9 Reviews
Spend a pleasurable afternoon and early evening on this small-group sunset sail from Bridgetown. Cruise by catamaran along Barbados' west coast, stopping to ... Read more
Location: Barbados
Duration: 3 hours (approx.)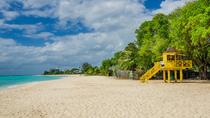 8 Reviews
Visit Barbados' top attraction — Harrison's Cave — on this half-day tour. You'll explore the limestone cave on an electric tram that takes you deep ... Read more
Location: Barbados
Duration: 5 hours (approx.)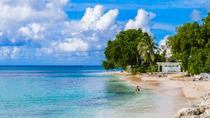 24 Reviews
Take a panoramic tour of Barbados' central sights — from coast to coast — and then enjoy a couple of hours of beach time on this 5-hour island tour. On a ... Read more
Location: Barbados
Duration: 5 hours (approx.)
4 Reviews
On this tour you and a partner or a small group of friends or family can reserve a boat exclusively for yourself. You will have a dedicated tour guide that ... Read more
Location: Barbados
Duration: 2 hours (approx.)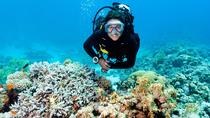 Whether you just got your certification or are a long-time scuba diver, you'll be impressed by the array of colorful coral, tropical fish and other marine life ... Read more
Location: Barbados
Duration: 3 hours (approx.)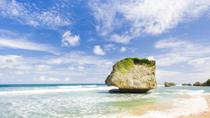 6 Reviews
Explore Barbados from top to bottom on this half-day coach tour that takes you on a scenic drive along all four coasts. Marvel at the expensive homes and ... Read more
Location: Barbados
Duration: 5 hours (approx.)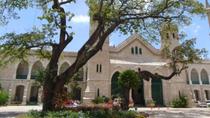 11 Reviews
Take a 2-hour walking tour of historic Bridgetown — the largest city in Barbados and a UNESCO World Heritage site! You'll visit several points of interest with ... Read more
Location: Barbados
Duration: 2 hours (approx.)