Hard Rock Cafe Barcelona Tours
If you're a fan of music, or simply a fan of American-style food, then add Barcelona's Hard Rock Cafe to your list of things to do in the coastal Catalan city. Located in the metropolis's main square, Plaça de Catalunya, the classic international restaurant serves up the same crowd-pleasing fare that you'll find in its restaurants around the world. 
But of course expect to find a whole new set of intriguing rock 'n' roll memorabilia too. Highlights include a jacket worn by Michael Jackson during his Victory tour, a guitar from the collection of Jimi Hendrix and a teddy worn by none other than Madonna. Apart from all the collector's items, the restaurant also hosts events, such as live music, usually on Sundays. And just as tasty food, good service, and Rock 'n' Roll are standard here, so is the onsite shop, where you can get your hands on that much-coveted Hard Rock Cafe Barcelona T-shirt.
Practical Info
Wait times can often be on the longer side (even on the most unexpected of nights, such as Mondays), so purchasing your meal—which comes with a well-priced set menu—in advance can ensure priority seating. Also, if you'd rather enjoy the Barcelona ambiance as opposed to all the music-related paraphernalia, then you can always opt for outdoor seating on the plaza-facing terraza.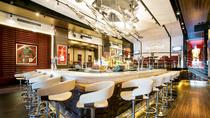 89 Reviews
Visit the Hard Rock Cafe Barcelona, close to the famous La Rambla. Enjoy its stylish new look and see such memorabilia as: A Prince vest worn on the back cover ... Read more
Location: Barcelona, Spain
Duration: 2 hours (approx.)