Flamenco is the passionate style of traditional music, song and dance of the Gypsies (flamencos) of Andalusia. Flamenco takes three forms: Cante, (song), Baile, (dance), and Guitarra, (guitar). Flamenco dance features swirling skirts, rhythmic patterns, sophisticated footwork and magnificent hand gestures, with the singing at the heart of the tradition. Flamenco songs explore themes of love, politics and humour, and the often tragic lyrics reflect the sufferings of the gypsy people.

Flamenco music is classified into "palos", based on rhythm, chord, stanza and origin. The most serious style is "cante jondo"; more frivolous "cante chico" are light and humorous; while "cante intermedio" is anything else. The Duende (demon) in Flamenco symbolises emotional empathy and deep communication between musicians, dancers and audience. Improvisation key, with each artist individually interpreting the rhythm and communicating the beat to the other players. An informal spontaneous gathering (juerga) includes dancing, singing and palmas (hand clapping). Organic and dynamic, this style of Flamenco adapts to the local talent, instruments, and mood.

"Tablaos flamencos" developed in the sixties, replacing more cabaret style "café cantante". Many tablaos have their own companies of musicians and artists. Feel the passion of the flamenco at Barcelona's legendary Torres Cordobes, where some of the greatest names in flamenco have performed. While being entertained by the fabulous live flamenco show, enjoy a traditional Spanish meal of paella, pastries and fruit with sangria, wine and beer.

Communication between the artists and audience is also an important part of the performance. Experience the dynamic flamenco show and delicious heat of  Andalusian cuisine in classic Spanish surroundings. A tasty sampling of typical Andalusian dishes includes toasted bread with tomato, Serrano ham, cheeses, sausages, seafood with desserts, wine or Sangria. One of the highlights is the emotive midnight prayer, "Salve Rociera".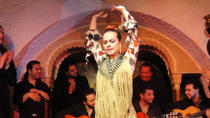 864 Reviews
Feel the passion of the flamenco at Barcelona's legendary Tablao Cordobes, where some of the greatest names in flamenco have performed. Entertained by an ... Read more
Location: Barcelona, Spain
Duration: 2 hours (approx.)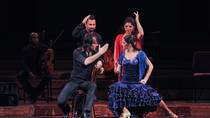 28 Reviews
Enjoy a mix of flamenco and soul-stirring opera music with a ticket to the 'Opera y Flamenco' show at either Teatre Poliorama or Palau de la Música ... Read more
Location: Barcelona, Spain
Duration: 90 minutes (approx.)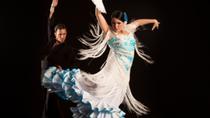 223 Reviews
Visit a Modernist-style tapas bar in the heart of Barcelona's Eixample neighborhood, and then finish the night in an emblematic flamenco bar in the heart of ... Read more
Location: Barcelona, Spain
Duration: 3 hours (approx.)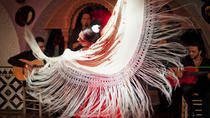 2 Reviews
Opt for a truly Spanish experience and discover flamenco during this unique evening in Barcelona's La Rambla neighborhood. At the prestigious Tablao Flamenco ... Read more
Location: Barcelona, Spain
Duration: 2 hours (approx.)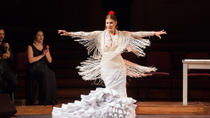 30 Reviews
See the acclaimed 'Gran Gala Flamenco' show at Barcelona's Teatre Poliorama or Palau de la Música Catalana! Featuring accomplished Catalan flamenco ... Read more
Location: Barcelona, Spain
Duration: 90 minutes (approx.)