You've wandered the cavernous interior of La Sagrada Familia, dodged the hustle and bustle of Las Ramblas, and sampled local fare at La Boqueria market: Now it's time to venture beyond Barcelona for a proper day trip. Whether you seek beaches, nature or a scenic-and-spiritual escape, here are a few destinations that will satisfy your craving to get to know more of the region.

Old-world charm in Girona and Besalú
Catalonia brims with pueblos that will easily lure you away from Barcelona's Cosmopolitan streets – and perhaps no place does that better than Girona. Cross one of 11 bridges into the river-perched city, where you can visit the 11th-century cathedral and get lost among the streets of one of Spain's most well-preserved Jewish quarters. After your stop in Girona, get to know the nearby town of Besalú, crossing the arched Romanesque bridge into its old quarter, inside which you can check out city sights like the at least 900-year-old Jewish bath, the even older 11th-century Sant Pere Church, and the oddly enjoyable Museum of Miniatures.

Nature escape to Montseny
But maybe you need a breath of fresh air, replacing the sounds of the city with the music of the mountains. In Montseny Natural Park, you'll find just that, along with loads of hiking trails, gushing rivers and sweet pueblos. During a visit, hike your way to the top of 1,700-meter-high Turó de l'Home, check out classic Catalan modernism in the village of La Garriga, and get your fill of the mushrooms and chestnuts famously harvested and cooked up in the region.

Scenery and serenity at Montserrat
For a more spiritual and otherworldly excursion, set your sights on the mountainside monastery of Montserrat. Situated about an hour outside of Barcelona by train, Montserrat's mountain peaks and rock-surrounded abbey will have your jaw dropping whether you're religious or not. During your time there you can of course pay a visit to the monastery, but also trek neighboring trails and admire unparalleled views of the valley below.

Day trips don't stop there either. Those seeking the beach can venture 40 kilometers south to the fishing village of Sitges, with its artsy culture and international vibe. For a still more artistic excursion, head to Costa Brava, visiting Dalí's stomping grounds, like his hometown Figueres (and his namesake museum) and his former bayside residence in Port Lligat near Cadaqués.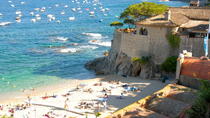 369 Reviews
On this day trip from Barcelona, you will visit the city of Girona in the north east of Catalonia before continuing to the Coastal region of Costa Brava. On ... Read more
Location: Barcelona, Spain
Duration: 11 hours (approx.)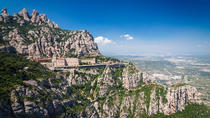 341 Reviews
Visit Santa Maria de Montserrat, one of Spain's most important pilgrimage sites, on this 4.5-hour tour from Barcelona. With a guide, enjoy a panoramic cogwheel ... Read more
Location: Barcelona, Spain
Duration: 4 hours 30 minutes (approx.)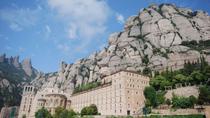 1167 Reviews
Enjoy a getaway to the Montserrat mountains on a half-day trip from Barcelona! You'll visit the Royal Basilica of Montserrat with its 12th-century carving of ... Read more
Location: Barcelona, Spain
Duration: 5 hours 30 minutes (approx.)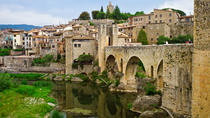 232 Reviews
Leave Barcelona and travel back to ancient times on this small-group tour of Catalonia's medieval villages. Visit the beautifully preserved villages of ... Read more
Location: Barcelona, Spain
Duration: 10 hours 30 minutes (approx.)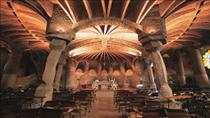 140 Reviews
Visit two outstanding attractions on a day trip from Barcelona to Colonia Guell and Montserrat! Discover a lesser-known work of Antoni Gaudí – the crypt ... Read more
Location: Barcelona, Spain
Duration: 8 hours (approx.)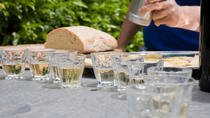 91 Reviews
Discover the flavors of Catalan food and wine on this small-group day trip from Barcelona. Sample cheese and wine in a beautiful medieval farmhouse ... Read more
Location: Barcelona, Spain
Duration: 10 hours (approx.)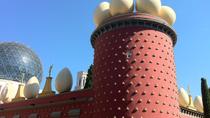 489 Reviews
Discover the medieval city of Girona and town of Figueres, the birthplace of Spanish surrealist Salvador Dalí, on this partly guided day trip from ... Read more
Location: Barcelona, Spain
Duration: 11 hours 30 minutes (approx.)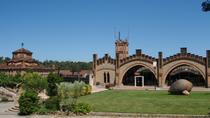 864 Reviews
Combine mountains, history and wine on a visit to Montserrat and either the Freixenet or Codorniu winery on a full-day small group tour by minivan from ... Read more
Location: Barcelona, Spain
Duration: 10 hours (approx.)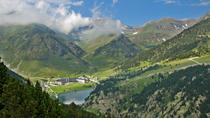 418 Reviews
Head to the Spanish hills for the day to hike the spectacular Pyrenees mountains on a small group excursion from Barcelona by minivan. You'll visit charming ... Read more
Location: Barcelona, Spain
Duration: 11 hours (approx.)
126 Reviews
This Montserrat day trip and Barcelona Gaudi tour including La Sagrada Familia combines two best-selling tours at a discounted price. Start the Barcelona Super ... Read more
Location: Barcelona, Spain
Duration: 10 hours (approx.)