Arguably Barcelona's most famous son, Antoni Gaudí is the mastermind behind several of the city's most beloved sights. And while some are widely known (the La Sagrada Familia Basilica and the terraced hillside of Parc Güell, for example), there are many more to be discovered. Seven of his works have made the UNESCO World Heritage List; see if you can check them all off your list.
Five of them lie within minutes of one another in and around the city's Eixample district. Park Güell was meant to be a high-end housing development but ended up as a landmark park instead, with its emblematic lizard fountain, the colorful benches of the lookout terrace and the Gaudí House Museum, which gives an inside look at where the architect once lived. Gaudí never finished the La Sagrada Familia Basilica after starting it in 1882, and it isn't slated for completion until 2026. But that doesn't mean it's not a sight to see today, with its three Biblical scene-covered façades, and expansive interior supported by forest-like columns.
You'll find Casa Mila (La Pedrera) and Casa Batlló down the street from one another. The former boasts a stony-style exterior and was especially lauded for its innovative double elevators and underground parking when it was constructed. But these days, most marvel at its peculiar undulating façade with leafy wrought-iron balconies. Casa Batlló was built in 1877 before getting a Modernist makeover from Gaudí that included a fanciful exterior of mosaic glass, a scaly reptilian-like rooftop and skeletal-looking windows and balconies.
Casa Vicens in the Gràcia neighborhood was Gaudí's first notable work, and it was constructed in the 1880s for Manuel Vicens, the owner of a brick and tile factory. As such, take special note in the building's Múdejar-inspired exterior (especially since you can't visit the interior) with its elaborate mix of colorful tiles, floral patterns and brick.
Closer to the water are Güell Palace and Colonia Güell Church. The palace, located in the El Raval neighborhood, has seven stories that include horse stables in the basement, a glamorous main hall for entertaining and a funky rooftop with rainbow tile-covered chimney pots. The church is unfinished but was commissioned by the same Güell behind the aforementioned palace and park. Due to lack of funds, all that was ever completed was the crypt; now visitors can simply stand on what would have been the church floor.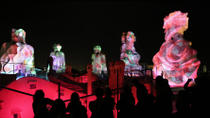 291 Reviews
In Barcelona, go inside one of Antoni Gaudi's most celebrated buildings, La Pedrera, at night for a 1.5-hour multimedia event. The experience, known as ... Read more
Location: Barcelona, Spain
Duration: 90 minutes (approx.)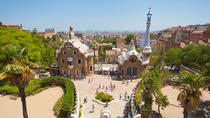 63 Reviews
Enjoy skip-the-line access to two of Barcelona's extraordinary Antoni Gaudí creations on this 4.5-hour skip-the-line tour. Start with fast-track entry and ... Read more
Location: Barcelona, Spain
Duration: 4 hours 30 minutes (approx.)
118 Reviews
Discover Antoni Gaudi's Modernist masterpieces on a 3.5-hour afternoon tour of Barcelona, led by an expert local guide! After admiring close-up views of ... Read more
Location: Barcelona, Spain
Duration: 4 hours (approx.)
114 Reviews
Immerse yourself in the wonderful world of Antoni Gaudi on a Barcelona Super Saver that combines two top-selling tours for a discounted price! With an expert ... Read more
Location: Barcelona, Spain
Duration: 4 hours 30 minutes (approx.)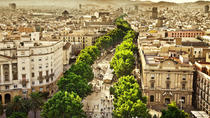 58 Reviews
Explore Barcelona any way you want on a 4-hour, customizable private tour with an expert local guide. Choose a morning or afternoon tour, tell your guide your ... Read more
Location: Barcelona, Spain
Duration: 4 hours (approx.)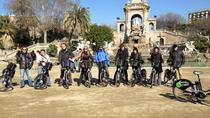 74 Reviews
See Barcelona with lots of fun and little effort on this 2.5-hour electric bike tour, led by an expert local guide. The easy-to-use bikes are fitted with ... Read more
Location: Barcelona, Spain
Duration: 2 hours 30 minutes (approx.)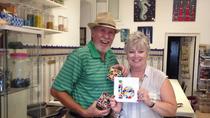 Channel the legendary artist and architect Antoni Gaudí during this fun, family-friendly mosiac workshop. Over the course of 2 hours, learn the Art ... Read more
Location: Barcelona, Spain
Duration: 2 hours (approx.)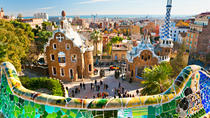 43 Reviews
Join a Barcelona walking tour of Quadrat d'Or, or Golden Square, in the Eixample district. This is an exceptional area that became the focus of 'modernist' ... Read more
Location: Barcelona, Spain
Duration: 2 hours (approx.)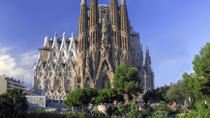 1 Review
Discover Barcelona's showstopper, La Sagrada Familia, on a 1.5-hour skip-the-line tour. With an expert guide, bypass the long entrance lines and head directly ... Read more
Location: Barcelona, Spain
Duration: 90 minutes (approx.)
Be the first one inside La Pedrera – Milà House, 45 minutes before its official opening time, on this 1.5-hour Viator Exclusive tour, not on offer ... Read more
Location: Barcelona, Spain
Duration: 90 minutes (approx.)