With its jagged rock formations sculpted through years of erosion, the famous peak of Montserrat - the 'Serrated Mountain' - is evocatively named, and the unique landmark makes a hugely popular day trip from Barcelona. The main draw of Montserrat is the mountaintop Santa Maria de Montserrat or the Montserrat Royal Basilica, an 11th century Benedictine abbey, dramatically situated at 1,236 meters and renowned as one of Spain's most important religious sites.
You can visit by coach, cable car or cogwheel railway; on a private or small group tour; or combine your visit with a tour of Barcelona. To help you decide which option is right for you, here's a breakdown to help you pick the perfect Montserrat tour.
The cheapest and easiest way to visit is on a
half-day trip from Barcelona
, an ideal option for those short on time. The mountaintop Basilica is the focus of the tour and you'll arrive by coach, with plenty of time to explore the abbey and watch a performance by the renowned La Escolania de Montserrat, one of Europe's oldest children's choirs. You can also upgrade your tour to include a scenic cogwheel train ride up the mountain.
To save money 
Perfect for first time visitors who want to save money and see as many sights as possible, the
Barcelona Super Saver Sightseeing and Montserrat Tour
 combines two top tours into one day. See the attractions of the Catalonian capital, enjoy aerial views of the city on a cable car ride up Montjuic, and then climb Montserrat on a cogwheel train for a tour of the Montserrat Royal Basilica. Finally, sample traditional Montserrat liquors at a mountaintop distillery.
For first time visitors
A
Barcelona and Montserrat Tour
 that includes a visit to the famous Basilica, Skip-the-Line entry to Gaudi's Park Guell and a convenient pick-up from your hotel or Port is ideal for first-timers. Group size is limited to  12 and the tour includes a performance of the world-renowned choir.
For art lovers
For independent travelers
A partially guided tour, like a
Barcelona Montserrat, Colonia Guell and Gaudi Crypt Day Trip
 is not only a great value, but also offers plenty of free time to explore on your own, without missing out on highlights like riding the Montserrat rack railway and watching the children's choir perform. Another good choice for independent-minded travelers is
half-day Small group tour to Montserrat
, with options to ride the Cable Car to Montserrat and include skip-the-line entrance to La Sagrada Familia. Best of all, you'll have enough free time to take in the views from Sant Jeroni, Montserrat's highest point, and spend as much time as you like inside the La Sagrada Familia. 
For food and wine lovers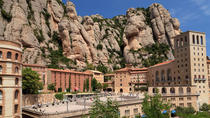 159 Reviews
Discover the jewel in Catalonia's crown before the crowds arrive on this 6-hour early-access visit to Monserrat. With this Viator Exclusive tour, available ... Read more
Location: Barcelona, Spain
Duration: 6 hours (approx.)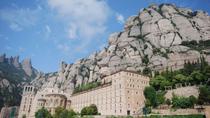 1167 Reviews
Enjoy a getaway to the Montserrat mountains on a half-day trip from Barcelona! You'll visit the Royal Basilica of Montserrat with its 12th-century carving of ... Read more
Location: Barcelona, Spain
Duration: 5 hours 30 minutes (approx.)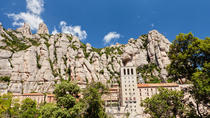 441 Reviews
Take a short trip from Barcelona to nearby Catalonia's Montserrat on this small-group tour! With a local guide, head to the top of this rugged mountain to see ... Read more
Location: Barcelona, Spain
Duration: 5 hours 30 minutes (approx.)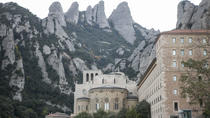 137 Reviews
Enjoy a relaxing, scenic getaway from bustling Barcelona on this small-group tour to Montserrat, a beautiful nearby mountain. Here, visit the Montserrat ... Read more
Location: Barcelona, Spain
Duration: 7 hours (approx.)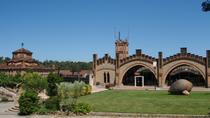 864 Reviews
Combine mountains, history and wine on a visit to Montserrat and either the Freixenet or Codorniu winery on a full-day small group tour by minivan from ... Read more
Location: Barcelona, Spain
Duration: 10 hours (approx.)
Avoid the crowds at the Royal Basilica of Montserrat and visit the lesser-known treasure of Santa Cecilia Monserrat Church on this 7-hour tour from Barcelona. ... Read more
Location: , Spain
Duration: 7 hours (approx.)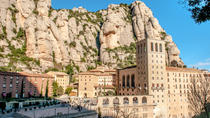 200 Reviews
Enjoy this 10-hours intimate experiences. Discover the national park of Montserrat, one of the most important landmarks of the region. Enjoy the famous Catalan ... Read more
Location: Barcelona, Spain
Duration: 10 hours (approx.)
126 Reviews
This Montserrat day trip and Barcelona Gaudi tour including La Sagrada Familia combines two best-selling tours at a discounted price. Start the Barcelona Super ... Read more
Location: Barcelona, Spain
Duration: 10 hours (approx.)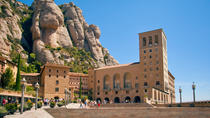 218 Reviews
Combine city sightseeing in Barcelona with a trip to the multi-peaked mountain of Montserrat on this full-day tour! With an expert guide you'll see countless ... Read more
Location: Barcelona, Spain
Duration: 8 hours 30 minutes (approx.)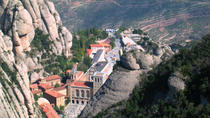 13 Reviews
Explore Spain's dramatic countryside on this private 8-hour tour from Barcelona to Montserrat Abbey with an expert guide. You'll see two iconic destinations ... Read more
Location: Barcelona, Spain
Duration: 8 hours (approx.)