No trip to Spain is complete without savoring some tapas and a glass of wine. Tapas are bite-sized appetizers, tiny delicious hot and cold snacks served in bars all over Spain. Eating them standing up, in-between work and dinner is a favourite Spanish pastime. The relaxed ambiance and easy socializing of the bar culture is enhanced with these tasty snacks ranging from simple olives, patatas bravas and cheese to delicacies like octopus, anchovies and prawns. Legend has it that the original tapas were bread, ham or chorizo used as covers to keep the sherry in Andalusian taverns safe from flies dropping into the glass. They are usually salty – to encourage drinking – and flavoured with spices, garlic, paprika, chili and olive oil.

In Barcelona you are surrounded by tapas bars, and it can be a little daunting to figure out how the whole process works, the different choices and where the best bars can be found. A walking tour of Barcelona's famous tapas bars combines gourmet food and Catalan culture. It's a great introduction to Barcelona - not only do you get to explore this fabulous city, you also learn about the flavors of the wine, cuisine and lifestyle as you discover some of the best bars and cafes Barcelona has to offer. Stroll down lively Las Ramblas, marveling at its bird cages, buskers and bars, with a detour to La Boqueria, the city's fabulous food market offering fresh produce from live seafood, to luscious fruit and vegetables, cheeses and every type of meat imaginable. Continue on to the Gothic Quarter, to discover the architecture, atmosphere, language and gastronomy unique to Spain, and 100 year old gourmet shops. Finish the evening at a Basque bar in a historic 14th-century building, with a range of delectable tapas and a glass of wine or beer.
Tapas Guide:
Aceitunas - Olives, sometimes filled with anchovies or paprika.
Alioli - "Garlic and oil" in Catalan. The classic ingredients are garlic, oil and salt, often includes mayonnaise.
Banderillas, or pinchos de encurtidos - Cold pickled items, like olives, baby onions, baby cucumbers, chillis (guindilla) with pieces of pepper and other vegetables skewered together.
Boquerones - White anchovies served in vinegar or deep fried.
Calamares or rabas - Battered squid.
Chorizo al vino - Chorizo sausage slowly cooked in wine or Chorizo a la sidra cooked in cider.
Croquetas – Tasty crunchy fried croquettes.
Empanadas or empanadillas – Pastry turnovers filled with meats and vegetables.
Gambas - Prawns sauteed in salsa negra (peppercorn sauce), al ajillo (garlic), or pil-pil (chili peppers)
Mejillones rellones (Tigres) - Stuffed Mussels. Called "tigers" in Navarre due to heir fieriness.
Pimientos de Padrón - Small green peppers originally from Padrón, fried in olive oil or served raw.
Pulpo - Octopus, served in small chunks cooked in oil with salt. Primarily from Galicia region.
Patatas bravas - Fried diced potato served with salsa brava, a spicy tomato sauce or alioli
Queso con anchoas - Castilla or Manchego cured cheese with anchovies on top.
Tortilla de patatas or Tortilla española - Omelet with fried potatoes and onion.
Tortilla paisana - Similar to frittata, containing vegetables and chorizo.
Tortillitas de camarones - Prawn fritters.
Zamburiñas - Scallop from the region of Galicia served in a tomato-based marinara sauce.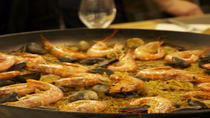 203 Reviews
Find out the professional secrets of Spanish cuisine during this small-group cooking class in Barcelona. Your local chef will teach you how to prepare an ... Read more
Location: Barcelona, Spain
Duration: 5 hours (approx.)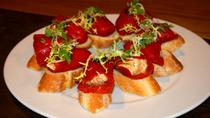 834 Reviews
Combine gourmet food and Catalan culture on a pre-dinner walking tour of Barcelona's famous tapas bars. It's a great way to begin your visit of Barcelona - not ... Read more
Location: Barcelona, Spain
Duration: Varies (3 to 4 hours depending on chosen option)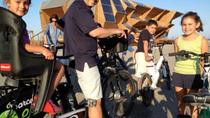 101 Reviews
Combine Barcelona sightseeing by electric bike with tapas and drinks on a 3-hour city tour, led by a local guide! Fun and safe, the bike has an electric motor ... Read more
Location: Barcelona, Spain
Duration: 3 hours (approx.)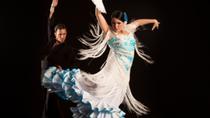 223 Reviews
Visit a Modernist-style tapas bar in the heart of Barcelona's Eixample neighborhood, and then finish the night in an emblematic flamenco bar in the heart of ... Read more
Location: Barcelona, Spain
Duration: 3 hours (approx.)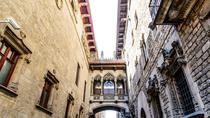 237 Reviews
Spend a morning taking a guided walk through Barcelona's fascinating Gothic Quarter. It's a great way to find your way around Barcelona and become familiar ... Read more
Location: Barcelona, Spain
Duration: 2 hours (approx.)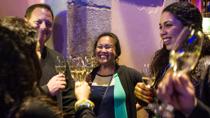 3 Reviews
An indulgent, off-the-beaten-path city tour to experience a wide range of tastes all over Barcelona! Wine and dine in flavourful local venues throughout ... Read more
Location: Barcelona, Spain
Duration: 4 hours 30 minutes (approx.)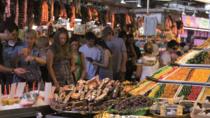 87 Reviews
Walk through the Old Town as you discover Barcelona's most emblematic gastronomic establishments. Learn about Catalan gastronomic culture, an essential ... Read more
Location: Barcelona, Spain
Duration: 2 hours (approx.)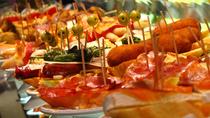 4 Reviews
Experience this 3-hour private walking tour and enjoy some of the best tapas in the most trendiest districts in the city (food and drinks included). You will ... Read more
Location: Barcelona, Spain
Duration: 3 hours (approx.)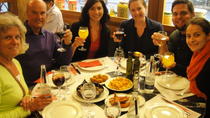 Combine gourmet food and Catalan culture on a pre-dinner walking tour of Barcelona's famous tapas bars. It's a great way to begin your visit of Barcelona. Not ... Read more
Location: Barcelona, Spain
Duration: 3 hours (approx.)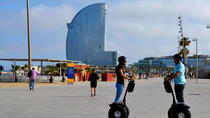 Discover Barcelona and its gastronomic culture and way of life in a fun Segway Tour. Visit the popular Barceloneta and places to enjoy the famous traditional ... Read more
Location: Barcelona, Spain
Duration: 3 hours (approx.)