From hilltop Montjuic to the beaches of Barceloneta, you'll never go thirsty in this Spanish city of tapas and champagne bars. Your favourite bar might be just around the corner from your hotel, or tucked away in a Gothic Quarter laneway. We found our Top 5 watering holes as we made our way around the Catalan capital, but we have the feeling this is just the beginning of a much longer list...

1. El Xampanyet
Seats (or should that be stools) were at a premium when we squeezed our way into El Xampanyet, one of Barcelona's most legendary champagne bars. It's in the Gothic Quarter, a few doors down from the Picasso Museum (just look for the queues). Although it's extremely popular with visitors, the family-run bar still feels authentic, with its tiled walls, tapas counter and walls lined with bottles. In fact it's been run by the same family since 1921.
The specialty here is the house cava, served in old-style breast-shaped coupes rather than flutes. The staff are helpful (and patient), and you can get by with very little Spanish – just point as you stand and eat and drink at the bar (or grab one of those stools if you see one come free).
To accompany your champagne, a steady stream of tapas dishes appears from the kitchen. Will it be red pepper and ham toasts, fresh asparagus spears, artichoke hearts, sardines, anchovies or croquettes?
2. Barceloneta Beach Bar
No holiday to Barcelona is complete without a stroll beside the long stretch of Barceloneta seaside. One of the world's longest urban beaches, it's quite a scene, with sun worshippers, kiteboarders, volleyball competitions and wandering beer vendors.
And no Barceloneta seaside stroll is complete without a drink at one of the many waterfront beach bars ('chiringuitos') and cafes. There are bars right on the sand, with outdoor tables and umbrellas. Above the beach, tablecloth-covered tables spill onto the promenade, with waiter service if you'd like a meal.
We made ourselves at home at an outdoor restaurant table under the palm trees and ordered a plate of patatas bravas, fried potatoes with a creamy red pepper sauce. And as the sun was shining, a bottle of rosé was the ideal accompaniment as we watched the passing parade.
3. La Ramblas classic
Of course, when in Barcelona you've got to have a drink in a Modernista classic, and they don't come much more classic than El Quatre Gats, just off La Ramblas. 
From the terracotta brick and stone of its 1897 facade with its grilled doors and metal sculpture lanterns, to the geometric and floral tiles, wooden beamed ceiling and circular candelabras, it's no wonder 4 Gats is a major stop on Barcelona's Modernista trail.
Table seating for a meal is in the main restaurant, and at tables for two along the mezzanine gallery looking down from above. The restaurant fare gets mixed reviews, so we decided to have a drink in the front bar where you can still get a taste of 4 Gats' atmosphere. We ordered a couple of beers and some cava to wash down small platters of tortilla omelette and chorizo.
4. Cheese Shop and Wine Bar
We were walking through the Gothic Quarter when we came across something very unique: a gorgeous cheese shop run by a fabulously wonderful Scottish woman called Katherine.
In the antique surroundings of a former butter-making factory, Formatgeria la Seu is a great place to sample and buy cheeses to take home. You can order a cheese 'palette' of three cheeses and a glass of wine, enjoyed standing up, or visit on Friday and Saturday afternoons to sit down with a cheese platter with olives, quince paste and a bottle of Spanish wine in the tiny tasting room at the rear of the shop.
The handcrafted artisan cow's, goat's and sheep's milk cheeses are sourced from independent rural producers across Spain. They ranged from creamy to hard, subtle to ripe, and the only one we'd even heard of was the famous manchego. We also tasted the unusual formatgelat, combining cow's, goat's or blue cheese with artisan ice cream. Strange but lovely with dried fruit and honey.
Katherine also runs a tiny wine bar, a door or so down the alley. Just a couple of stools in a stone-walled cellar, it oozes conviviality and great ambiance.
5. El Born
El Born is a particularly atmospheric part of Barcelona, just outside the Gothic Quarter and heading towards Barceloneta. The sailor's cathedral, Santa Maria del Mar, is here, just near the França railway station, and the backstreets are lined with fortress-like tall medieval stone buildings pierced with tiny windows. There are also some lovely tree-filled squares, leafy avenue and the main thoroughfare, Passeig de Born.
El Born is a magnet for tapas bars, tucked away in the area's tiny alleys. One of the most famous is Cal Pep, specialising in seafood. A recent addition to El Born's tapas scene is the bar at the refurbished Santa Caterina fresh food market – order wine by the glass and share platters of cheese and ham croquettes at the long communal tables.
If the thought of ordering tapas without having an in-depth knowledge of Spanish or Catalan is just too scary, drop into one of the Taller de Tapas restaurants – the menu and layout are traveller-friendly and not the least bit intimidating. There are branches in El Born, the Ramblas, Eixample and the Gothic Quarter.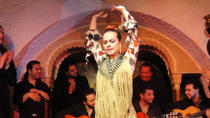 864 Reviews
Feel the passion of the flamenco at Barcelona's legendary Tablao Cordobes, where some of the greatest names in flamenco have performed. Entertained by an ... Read more
Location: Barcelona, Spain
Duration: 2 hours (approx.)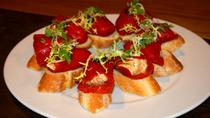 835 Reviews
Combine gourmet food and Catalan culture on a pre-dinner walking tour of Barcelona's famous tapas bars. It's a great way to begin your visit of Barcelona - not ... Read more
Location: Barcelona, Spain
Duration: Varies (3 to 4 hours depending on chosen option)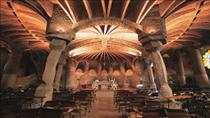 140 Reviews
Visit two outstanding attractions on a day trip from Barcelona to Colonia Guell and Montserrat! Discover a lesser-known work of Antoni Gaudí – the crypt ... Read more
Location: Barcelona, Spain
Duration: 8 hours (approx.)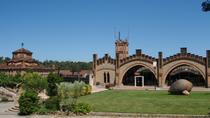 864 Reviews
Combine mountains, history and wine on a visit to Montserrat and either the Freixenet or Codorniu winery on a full-day small group tour by minivan from ... Read more
Location: Barcelona, Spain
Duration: 10 hours (approx.)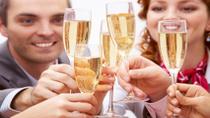 140 Reviews
On this wine-tasting tour from Barcelona, spend a relaxing day in the countryside as you sample wine and learn about cava (Catalan sparkling wine). You will ... Read more
Location: Barcelona, Spain
Duration: 8 hours (approx.)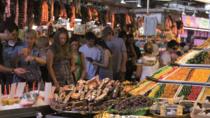 87 Reviews
Walk through the Old Town as you discover Barcelona's most emblematic gastronomic establishments. Learn about Catalan gastronomic culture, an essential ... Read more
Location: Barcelona, Spain
Duration: 2 hours (approx.)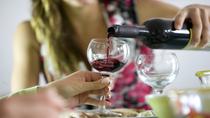 42 Reviews
Where better to become a connoisseur of Spanish wines than vibrant Barcelona? Whether you are a wine novice or a wine lover, you'll have a fabulous time ... Read more
Location: Barcelona, Spain
Duration: 90 minutes (approx.)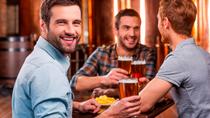 Barcelona might not be known for its craft beers but after this 2-hour guided tour, you'll leave wondering why beer and Barcelona are not more synonymous. ... Read more
Location: Barcelona, Spain
Duration: 2 hours (approx.)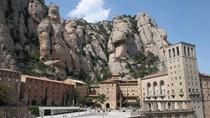 Combine mountains, history and wine on a private day trip from Barcelona to Montserrat and trail for a cellar tour and visit to a winery. Enjoy stunning views ... Read more
Location: Barcelona, Spain
Duration: 10 hours (approx.)