Few cities are as evocative of Germany's contrasts as Nuremberg (or Nurnberg) and the second largest city in Bavaria is as famous for its toy shops and gingerbread, as it is for its prominent role in the WWII Nazi war efforts.
By the time it gained notoriety for hosting the post-WWII Nuremberg Trials - held between 1945 and 1949 to bring Nazi war criminals to justice - the city was emerging from years at the center of Nazi rule and today, many of its principal attractions date back to this era. Touring the Nazi party rally grounds is top of many visitor's to-do lists, along with a number of key Third Reich buildings, the Documentation center which chronicles the city's war history, the half-built Congress Hall designed for Nazi party meetings and the Great Street where some of Hitler's largest parades and rallies were held.
Thankfully, Nuremberg's claims to fame aren't all bleak. The city is also a lively tourist hub, renowned for its spectacular annual Christmas markets – the largest in Germany - and one of Germany's most photogenic medieval Old Towns. Walking around the walled Old Town is one of the city's principal delights - a labyrinth of cobblestone lanes and traditional timber-fronted houses, sprawled along the banks of the River Pegnitz and dominated by the omnipresent tower of Nuremberg Castle. Historic sights like St Lawrence Church, St Sebald Church, Albrecht Dürer House and Nuremberg Hauptmarkt are all popular points of interest on a Nuremberg walking tour, but don't forget to indulge in some shopping too. Nuremberg is the start of Germany's Toy Road, a veritable paradise for children, collectors and nostalgists, and many toys, traditional gingerbread sweets and pocket watches hail from the city.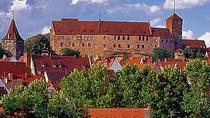 280 Reviews
Travel to Nuremburg by train on a full-day trip to one of Germany's most beautiful cities. Enjoy a fully-guided visit of the city, as well as an optional visit ... Read more
Location: Munich, Germany
Duration: 10 hours (approx.)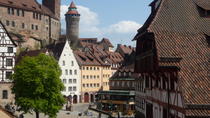 76 Reviews
Combine Nuremberg's beautiful Old Town sights with a visit to the Nazi party rally grounds (Reichsparteigelande) on this must-do 4-hour tour. After exploring ... Read more
Location: Nuremberg, Germany
Duration: 4 hours (approx.)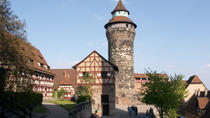 15 Reviews
Explore Nuremberg's postcard-perfect Old Town on a 2-hour walking tour, led by a local guide. Steeped in antiquity, the neighborhood has been at the ... Read more
Location: Nuremberg, Germany
Duration: 2 hours (approx.)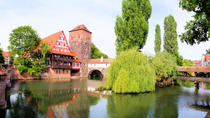 6 Reviews
Visit the must-see sights of Nuremberg with a private guide at your side! This comprehensive private sightseeing tour offers a flexible itinerary that's ... Read more
Location: Nuremberg, Germany
Duration: Flexible