With its serpentine coastline, turquoise coves, and empty white sand beaches, the Bay of Islands is a vision of paradise for travelers to the North Island of New Zealand. The allure of this landscape is so inescapably romantic that many a traveler—upon first sight of the shoreline—imagines themselves at the helm of a sailboat slowly exploring the coast.

The reality, however, is that most travelers don't visit on their own private sailboat, and many don't have the time which is required to explore every bend in the shore. Nevertheless, the desire to navigate the enchanting horizon is a feeling which is difficult to shake, and a sense of adventure has been known to infect nearly every traveler who comes here.

Luckily, there is an option for travelers who want to maximize their visit in a minimal amount of time. Although it might not be on the water, or have the sound of waves splashing the bow as the accompanying soundtrack to the journey, seeing the Bay of Islands on an airplane or helicopter tour is in many ways like traveling in a boat. When seeing the Bay of Islands from above, you are not only able to explore most of the coastline over the period of a couple of hours, but you are given a breathtaking birds-eye view of one of the world's most legendary coasts.

Most Bay of Islands flightseeing tours depart from Kerikeri airport. From this rural airport just north of Paihia, the contours of the coastline and the inland forests are immediately visible from the moment you take off. Soar high above the treetops of the Waipoura Forest, or gaze down on the sands of Doubtless Bay as you soar above the Northland's rugged coast.

Or, for those who would prefer to depart closer to Paihia, helicopter tours of the Bay of Islands conveniently depart from helipads near town. Whir above the townships of Russell and Opua as you gaze down on the legions of sailboats, or zip along the coastline past white-sand beaches that would take hours to reach by boat. You can even circle the famous Hole in the Rock on the craggy coast of Cape Brett.

If you'd prefer to be blending your aerial experience with actual time on the water, a couple of helicopter tours in the Bay of Islands combine the ability to cruise and fly. You can spend the morning plying the coastline and basking on offshore beaches, and then hop in the doors of an awaiting helicopter to see the Bay of Islands from above.

While you might not be able to see heaven from the windows of your Bay of Islands tour, you could make the case that the scenery below you is about as close as you'll find here on Earth.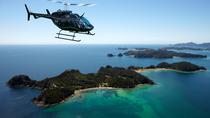 5 Reviews
When your cruise ship docks in Bay of Islands, get bird's-eye views of Cape Brett and the Hole in the Rock on this Bay of Islands scenic helicopter tour from ... Read more
Location: Paihia, New Zealand
Duration: 20 minutes (approx.)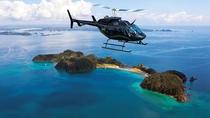 14 Reviews
Get bird's-eye views of Cape Brett and the Hole in the Rock on a Bay of Islands scenic helicopter tour from Paihia. Take in the stunning scenery of the main ... Read more
Location: Paihia, New Zealand
Duration: Flexible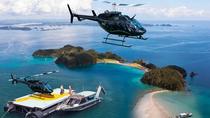 4 Reviews
Experience the best of the Bay of Islands with a cruise and helicopter tour from Paihia. Hop aboard the sea shuttle for a scenic cruise out to the bay, and ... Read more
Location: Paihia, New Zealand
Duration: 4 hours (approx.)