3 Reviews
Address:

53-55 Crumlin Rd, Belfast, Antrim, Northern Ireland BT14 6ST, Ireland

Admission:

£7.50
Crumlin Road Jail Tours
Crumlin Road features two imposing structures of Belfast's criminal justice system, the Crumlin Road Gaol (Jail) and Courthouse. The jail opened in 1845 and the courthouse five years later, though neither have been in service since the late 1990ss. Crumlin Road Jail is the only Victorian-era prison remaining in Northern Ireland and is commonly referred to as "The Crum." 
The Crumlin Road Gaol is a black basalt and red sandstone structure of four wings branching out from a central circle. The jail has been the site of numerous breakouts, bombings and protests over the years, and despite being referred to as the Alcatraz of Europe, there were a number of successful escape attempts, the first in 1866. It has housed such notable inmates as Ian Paisley, Eamon de Valera, Michael Stone and Lenny Murphy. Gallows were not included in the original design, meaning executions took place in public view. In 1901, an execution chamber was built and utilized until 1961, when hangings stopped. 
The Crumlin Road Courthouse stands opposite the jail and is in disrepair today. It has a tunnel that connects the two buildings and was once used to transport prisoners from prison to court. The site is now a tourist destination where visitors can tour the facility. At present, the courthouse is in a state of disrepair while awaiting plans for its future use.
Practical Info
Admission costs £7.50 for adults and £5.50 for youth ages 4 to 15. Children under 4 can enter for free. Hour-long tours are offered daily from 10 a.m. to 4:30 p.m.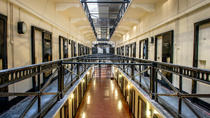 36 Reviews
The Crumlin Road Gaol closed its doors as a jail in 1996 and reopened as a tourist attraction in 2013. Once home to a number of Northern Ireland's high-profile ... Read more
Location: Belfast, Ireland
Duration: 75 minutes (approx.)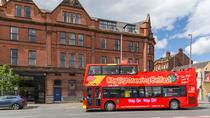 160 Reviews
With this 2-day ticket aboard an open-top double-decker City Sightseeing bus, you will be able to hop-on and hop-off at any of the 23 tour stops along the ... Read more
Location: Belfast, United Kingdom
Duration: 2 days (approx.)