Royal Naval Dockyard
Who knew history could be so beautiful and so much fun!

The Royal Naval Dockyard is one of Bermuda's top visitor destinations. Located in Sandy's Parish on the west point of the island, the Royal Naval Dockyard's lush views and glistening clear water offer an intriguing contrast to its old stone buildings that once housed the British Royal Navy.

The Dockyard, as the locals call it, is a must-see when visiting Bermuda. You'll enjoy exploring the site which was once the largest British naval base outside of the UK. Learn more about Bermuda's history at the Maritime Museum, located in the Keep; or check out this 19th century dockyard from the water with watersports and snorkeling adventures.

There are also plenty of shops at the Clocktower Mall, including a craft market and glassworks, as well as the famous Frog and Onion pub. And even if you don't wish to partake, you won't want to miss a visit to Dolphin Quest, where visitors can swim with dolphins in the stone walled enclosure which was once used for unloading ammunition from warships!

However you choose to spend the day, you'll revel in the history of the Dockyard as it's charmingly juxtaposed with a tropical paradise.

Practical Info
The Royal Naval Dockyard is located in Sandys Parish on the westernmost point of Bermuda. The outpost can be reached by regularly departing ferries from Hamilton, by bus, taxi, car or you can even rent a moped to scoot around the Dockyard!
Experience the human transporter, the segway, Bermuda's latest mode of transportation on a high tech tour of the dockyard. With cutting edge technology, this ... Read more
Location: , Bermuda
Duration: 90 minutes (approx.)
17 Reviews
See the best of Bermuda with this 5-hour tour that wraps around the entire island. Known for its pink sand beaches and charming pastel-colored buildings, ... Read more
Location: Hamilton, Bermuda
Duration: 5 hours (approx.)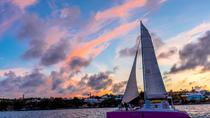 25 Reviews
Start a night out in Bermuda the right way with a 1.5-hour sunset cocktail cruise aboard a 50-foot catamaran. Sunsets in paradise are always great, but they're ... Read more
Location: Bermuda
Duration: 90 minutes (approx.)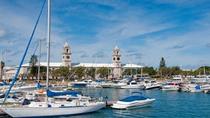 15 Reviews
Taste some of Bermuda's local rum on this 1.5-hour rum cruise! Sip on local rum while learning about the history and culture of the island. Try Bermuda's ... Read more
Location: Bermuda
Duration: 90 minutes (approx.)
The African Diaspora Heritage Trail is an important part of Bermuda's history. Come join us on this fascinating, half-day journey to learn more about Bermuda's ... Read more
Location: Hamilton, Bermuda
Duration: 6 hours 30 minutes (approx.)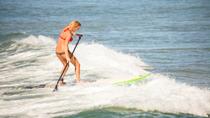 1 Review
Learn how to paddleboard in the beautiful Atlantic Ocean on this tour in Bermuda! Enjoy stand-up paddleboarding, also known as paddle surfing, on a protected ... Read more
Location: Bermuda
Duration: 3 hours 30 minutes (approx.)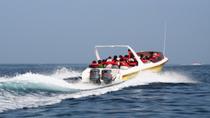 7 Reviews
Board a WildCat powerboat for a high-speed, action-packed adventure in Bermuda! This fast-paced and fully narrated sightseeing tour takes you on an exciting ... Read more
Location: Bermuda
Duration: 3 hours 30 minutes (approx.)