481 Reviews
Address:

Crater Rim Drive, Volcano 96785, USA

Hours:

Daily 7:45am–5pm

Admission:

US$10 for vehicles or US$5 for individuals for a seven day pass
The mega attraction on the Big Island is Volcanoes National Park, Hawaii's sole world heritage site. The volatile park's centerpiece is Kilauea Volcano, which continues to blow its top and spout molten lava, ash and steam.
Crater Rim Drive is a spectacular driving route, skirting the rim of the caldera, stopping at lookouts and taking you from rainforest to desert.
The eerie and easily accessible Thurston Lava Tube is a long hollow cave-like formation, created by flowing lava. Another driving route to follow is the winding Chain of Craters Road along the slopes of the volcano to the coast, where lava has pooled from recent eruptions.
Check out the park's visitors center to learn about trail conditions and guided walks, and come prepared for changeable weather if you're hiking the trails that crisscross the rim.
Practical Info
Volcanoes National park is a 45-minute drive along Highway 11 from Hilo on the island's south coast. The best way to get here is by rental car or organized tour.
1 Review
Hike with an experienced volcano guide to not one, but THREE of the major craters of Mount Kilauea in Hawaii Volcanoes National park in one day!  Truly an ... Read more
Location: Kailua-Kona, Hawaii
Duration: 11 hours 30 minutes (approx.)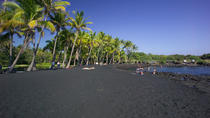 219 Reviews
This 10-hour nature tour offers an in-depth look at Hawaii's youngest and largest island. Explore the diverse landscape and natural wonders, including active ... Read more
Location: Hawaii, Hawaii
Duration: 11 hours (approx.)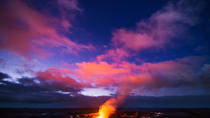 52 Reviews
This first-class tour showcases the raw nature of the active volcano-Kilauea. Journey through the middle of the island on the brand new Saddle Road. The views ... Read more
Location: Kailua-Kona, Hawaii
Duration: 12 hours (approx.)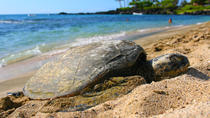 182 Reviews
See the Big Island of Hawaii's stunning beauty on a full-day Grand Circle tour. On the Grand Circle Island Adventure, you'll visit Volcanoes National Park and ... Read more
Location: Kona, Hawaii
Duration: 11 hours 30 minutes (approx.)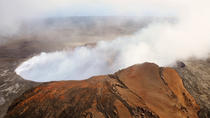 5 Reviews
Immerse yourself in the wild beauty of Hawaii's volcanoes on a full-day tour via helicopter, coach and foot. Venture deep into volcano territory as you ... Read more
Location: Hawaii, Hawaii
Duration: 10 hours (approx.)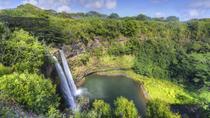 31 Reviews
See the Big Island of Hawaii's stunning beauty on a full-day Grand Circle tour from Oahu. You'll fly from Oahu to the Big Island and circle the island to see ... Read more
Location: Waikiki, Oahu
Duration: 16 hours (approx.)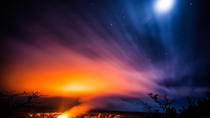 15 Reviews
Make Kilauea Volcano and Hawai`i Volcanoes National Park your destination, and stay past sunset. Explore an active volcano on a fully narrated adventure that ... Read more
Location: Hilo, Hawaii
Duration: 6 hours (approx.)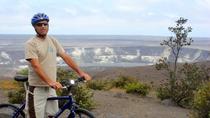 56 Reviews
Join a guided Kilauea Volcano bike tour in the Hawaii Volcano National Park. You'll explore Kilauea Volcano, from its summit to the sea, as you bike down this ... Read more
Location: Hilo, Hawaii
Duration: 4 - 5 hours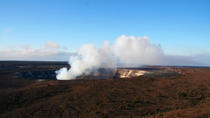 60 Reviews
Journey to the Big Island's Hawaii Volcanoes National Park from Kona or Waikoloa on this exciting day trip, complete with your own personal iPad to use ... Read more
Location: Kona, Hawaii
Duration: 12 hours (approx.)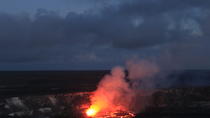 12 Reviews
See rare black sand beaches, stunning tropical waterfalls, and the fascinating sight of volcanoes at night. Visit the Big Island's most spectacular natural ... Read more
Location: Kailua-Kona, Hawaii
Duration: 12 hours (approx.)