For some of the best snorkeling on the Big Island, visit the protected waters of Kealakekua Bay.
This remote area is also popular with hikers, who might come across the ruins of ancient temples and villages on their travels.
Dolphins frolic in the bay, and the shore is dotted with the white obelisk commemorating the death of Captain James Cook here in 1779.
Practical Info
Kealakekua Bay is surrounded by Kealakekua Bay State Historical Park on the western Kona coast. 
The easiest way to get here is to either paddle in by kayak or take an organized tour.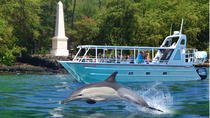 26 Reviews
Cruise coastline and explore sea caves and other historical areas where ancient Hawaiians made history and created legends that are still being told to ... Read more
Location: Kailua-Kona, Hawaii
Duration: 4 hours (approx.)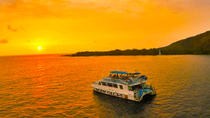 37 Reviews
Set sail for a 3-hour cruise to Captain Cook's Monument for dinner, as a local historian shares stories and legends of the sites you will see along the way. ... Read more
Location: Kailua-Kona, Hawaii
Duration: 3 hours (approx.)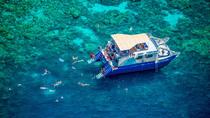 34 Reviews
Cruise the Kona Coast and enjoy a morning frolicking in the warm Hawaiian waters. Snorkel equipment is available for use and expert instruction makes the ... Read more
Location: Kona, Hawaii
Duration: 4 hours 30 minutes (approx.)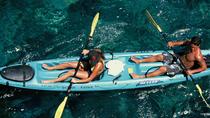 48 Reviews
Surround yourself with beautiful scenery, dolphins and the occasional humpback whale as you paddle a kayak in picturesque Kealakekua Bay! This narrated Big ... Read more
Location: Honalo, Hawaii
Duration: Flexible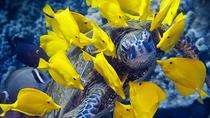 25 Reviews
Snorkeling in Kona is the best in the State. Join us on one of our personal, unique, and award winning snorkel tours and see the hidden Kona Coast. Discover ... Read more
Location: Kailua-Kona, Hawaii
Duration: Flexible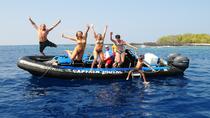 47 Reviews
Skim across the waves on an exciting Big Island Zodiac tour to Kealakekua Bay, site of the Captain Cook monument and Hawaii's finest marine sanctuary. Snorkel ... Read more
Location: Kona, Hawaii
Duration: Flexible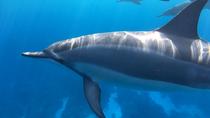 3 Reviews
COMBO TRIP: Swim with wild Dolphins and snorkel at Kealakekua Bay!    On this four hour excursion, you will travel to a beautiful marine sanctuary, ... Read more
Location: Kailua-Kona, Hawaii
Duration: 4 hours (approx.)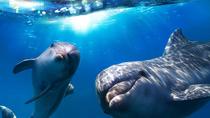 13 Reviews
Pods of potentially hundreds of Hawaiian spinner dolphins can be found off of the Kona Coast regularly. They live up to their name by jumping on every side of ... Read more
Location: Kailua-Kona, Hawaii
Duration: 5 hours (approx.)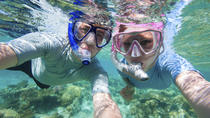 16 Reviews
Experience the beauty of the Kona Coast at picturesque Kealakekua Bay on an afternoon snorkel cruise. With equipment onboard and expert instruction available, ... Read more
Location: Kona, Hawaii
Duration: 3 hours 30 minutes (approx.)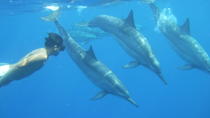 2 Reviews
Snorkel and observe sea turtles and spinner dolphins at Kealakekua Bay during this half-day boat excursion from Kailua-Kona. A professional captain and crew ... Read more
Location: Kailua-Kona, Hawaii
Duration: 3 hours 30 minutes (approx.)