Hawaii is world famous for its stunning natural landscapes, its active volcanoes, its lush greenery, its warm blue waters, and in some cases, it's throbbing cultural nightlife. Now that you've made it to the Big Island, where to begin? The Big Island's list of attractions could keep you occupied for a lifetime, but if you've only got three days and want to make the most of them, take a look at our suggestions for a unique good time below.
Day 1: Get Settled

Hawaii is a lush tropical paradise, and spending your time outdoors is the way to experience the pleasures of this pacific Eden.  Begin your Hawaiian adventure in the traditional way by opting for a Hawaiian Lei greeting and a seamless airport transfer to your hotel before settling into your new surroundings. After traveling, it might be best to ease into your vacation by doing something light. A relaxing yet visually stunning snorkel cruise of Kealakekua Bay or an evening of Hawaiian arts and crafts, drinks, dinner, and magical sunset, before being entertained by a traditional Polynesian Luau show.
Day 2: A Day of Adventure and Views

Now that you've eased into things, it's time to make the most of your days and get on to adventure! If you really want to see all of what the Big Island has to offer, consider taking a bird's-eye view of things in an exhilarating helicopter tour where you'll see spouting lava, dripping rainforests, cascading waterfalls, and ocean as far as the eye can see. If all that ocean entices you, you can then plunge into the depths of the great blue sea with a once in a lifetime opportunity to board a submarine and see the oceanic depths like never before. Or, if you'd feel better getting your thrills on land, a romp in a 6x6 PinzTrek up the misty slopes of Hualalai volcano.

Adventure jones still not satisfied? How about plunging back into the waters for a Manta Ray Night Snorkel? Voted by the Travel Channel as one of the top 10 things to do in your life, it's sure not to disappoint.
Day 3: Hit the Trails

Wake up rested, sip your morning coffee, and step out onto the veranda to gaze at your natural surroundings. Then strap your shoes on and get out there and in it. A Kilauea Volcano adventure tour will put into perspective the size and grandeur of the very-much active volcano you've been tramping around on. Appreciate its natural wonders on foot or by bike while sampling some of the local fare in the region before heading back down to the beach for zodiac raft and snorkel adventure. Alternatively, if you want a taste of another Hawaiian Island splendor, consider embarking on one of the exciting day trips to Oahu, available from Kona.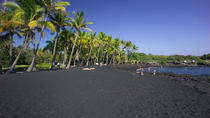 353 Reviews
This 10-11 hour nature tour offers an in-depth look at Hawaii's youngest and largest island. Explore the diverse landscape and natural wonders, including visit ... Read more
Location: Hawaii, Hawaii
Duration: 11 hours (approx.)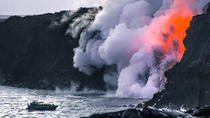 204 Reviews
See the Big Island of Hawaii's stunning beauty on a full-day Grand Circle tour. On the Grand Circle Island Adventure, you'll visit Volcanoes National Park and ... Read more
Location: Kona, Hawaii
Duration: 11 hours 30 minutes (approx.)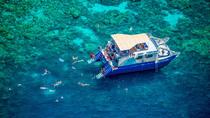 34 Reviews
Cruise the Kona Coast and enjoy a morning frolicking in the warm Hawaiian waters. Snorkel equipment is available for use and expert instruction makes the ... Read more
Location: Kona, Hawaii
Duration: 4 hours 30 minutes (approx.)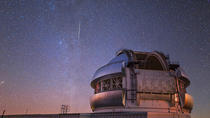 168 Reviews
Head to the Mauna Kea Observatory, nestled high in the mountains of the Big Island, and experience an intriguing and provocative journey through space and ... Read more
Location: Kona, Hawaii
Duration: 8 hours (approx.)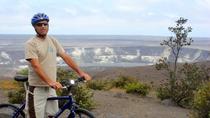 68 Reviews
Join a guided Kilauea Volcano bike tour in the Hawaii Volcano National Park. You'll explore Kilauea Volcano, from its summit to the sea, as you bike down this ... Read more
Location: Hilo, Hawaii
Duration: 4 - 5 hours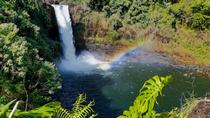 33 Reviews
See three of the Big Island's famous waterfalls — Hiilawe Falls, Akaka Falls and Rainbow Falls — on this tour to the Waipio Valley and Hamakua Coast. Discover ... Read more
Location: Hawaii, Hawaii
Duration: 9 hours (approx.)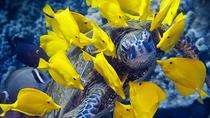 25 Reviews
Snorkeling in Kona is the best in the State. Join us on one of our personal, unique, and award winning snorkel tours and see the hidden Kona Coast. Discover ... Read more
Location: Kailua-Kona, Hawaii
Duration: Flexible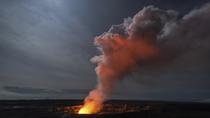 136 Reviews
Journey through Hawaii Island's incredible range of ecosystems and climate zones before experiencing first-hand the phenomena that makes it all possible – an ... Read more
Location: Kona, Hawaii
Duration: 12 hours (approx.)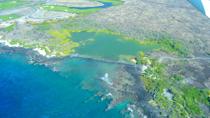 3 Reviews
Take in the stunning scenery of the Big Island on a deluxe sightseeing flight that lasts almost two hours. Fly over Hawaii Volcanoes National Park and its star ... Read more
Location: Hawaii, Hawaii
Duration: 105 minutes (approx.)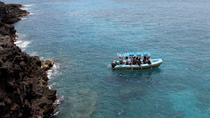 13 Reviews
Combine the magic of swimming with wild dolphins off the Kona coast with an amazing snorkel adventure in stunning Kealakekua Bay. Set out from the Big Island ... Read more
Location: Hawaii-Kona, Hawaii
Duration: 5 hours (approx.)