Hawaii was the first state in America to offer zipline adventures, and in the past decade the popularity of ziplining has exploded to all of the islands. Today, whizzing across a verdant valley is one of the best ways to see the islands, and many tours offer access to areas you'd never get the chance to see otherwise.

Even though much of the Big Island is arid, dry, and volcanic, all of the zipline adventures on the Big Island take place in lush, green rainforests on the island's windward slopes. Most zipline adventures begin with easy, short, introductory lines where visitors get the feel for what it's like to sit in the harness, and lines will often progress in length so that the final line is the most dramatic and the one you're sure to remember.

On the seven-line course on the outskirts of Hilo, the final, seventh line is a 3,350 ft. screamer where you pass directly over a waterfall thundering 250 feet. Located close to the famous Akaka Falls, this zipline course passes over Kolekole Falls and is easily the most thrilling way to experience the Hamakua rainforests.

For those staying on the Waikoloa side of the island, the Big Island's original zipline course is tucked in the valleys of North Kohala on the outskirts of Kapa'au. This small, country town in North Kohala has rainforests extending all the way to the sea, and views of the Pacific and neighboring Maui are available on parts of the course. The ziplines pass over numerous waterfalls, and the canopy tour places you on rugged suspension bridges which weave their way through the Kohala treetops.

Most zipline adventures on the Big Island also include environmental components, and visitors will learn about the surrounding forest and ways to preserve the sensitive ecosystem. Closed-toed shoes are always required, and be sure to check with zipline operators about minimum age and weight.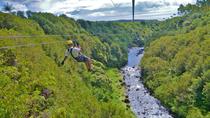 41 Reviews
Take your need for speed to new heights on this thrilling Helicopter, zipline and Hawaii Volcanoes National Park adventure. Imagine soaring over the ... Read more
Location: Kona, Hawaii
Duration: 14 hours (approx.)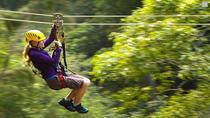 36 Reviews
Swing across the lush trees of North Kohala and get a bird's-eye view of the Big Island's tropical forest! Experience the thrill of rushing through ... Read more
Location: Kapaau, Hawaii
Duration: 3 hours (approx.)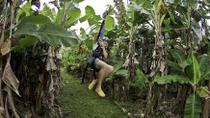 9 Reviews
Get ready for an exhilarating Hawaiian zipline adventure! Soar over cascading waterfalls and lush greenery on seven different ziplines – including one of the ... Read more
Location: Honomu, Hawaii
Duration: 2 hours 30 minutes (approx.)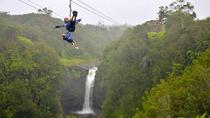 10 Reviews
Take your need for speed to new heights on this thrilling zipline and Volcano adventure. Covering nearly two miles of gorgeous tropical river ... Read more
Location: Hilo, Hawaii
Duration: 10 hours from Hilo; 14 hours from Kona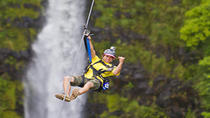 1 Review
Inject some adrenaline into your port stop in Hilo with an exhilarating zipline shore excursion! Get close-up views of the stunning mountain, ocean and jungle ... Read more
Location: Honomu, Hawaii
Duration: 3 hours (approx.)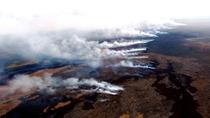 18 Reviews
Combine two exciting activities into one tour with this Big Island Super Saver! You'll start with either a 2-hour or 45-minute helicopter flight (depending on ... Read more
Location: Waikoloa Village, Hawaii
Duration: Hilo Tour is 6 hours / Kona tour is 10 hours