There's no doubt that the Big Island of Hawaii is beautiful, with all the natural wonders of Hawaii encapsulated in its blue-water boundaries. But Hawaii is no ordinary island chain. The beauty of this archipelago is that each island is distinct and unique in its own way, so if your trip to the Big Island is leaving you with a twinge of that adventurer's spirit—the wonder to discover what is over that next horizon—consider a day trip to lovely Oahu.
For the history buff, the mere mention of Pearl Harbor is likely to inspire thrills and mental imagery. Consider then, a patriotic and historical ride through the historical sites of nearby Oahu. Traveling from Kona to Pearl Harbor, you'll explore the site of the Japanese attack which prompted the US to enter WWII, the iconic Arizona Memorial floating astride the sunken battleship Arizona and established to honor the American soldiers lost on that fateful day, and the last battleship built by the US (the USS Missouri). All this before setting off to explore the historic attractions of downtown Honolulu including Kawaiahao Church, Iolani Palace (the only royal palace on American soil), the State Library and Archives, the famous statue of King Kamehameha, Honolulu Hale and the Mission Houses Museum.
If nature is more your bag than history, then perhaps a day trip to Oahu's most revered landscapes would better suit you. On this value-packed full-day tour, you'll visit lush tropical rain forests, picturesque sea-side villages, championship surfing spots, and fields of exotic (and delicious) pineapple. This tour includes admission into the world-renown Polynesian Cultural Center, Hawaii's No. 1 paid attraction and home to arguably the most traditional (but certainly the most fantastic) Lu'au, complete with fire twirling, grass skirts, and Hawaiian leis.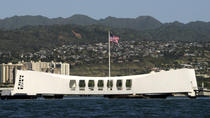 55 Reviews
This historic Oahu Day Trip from the Big Island to Pearl Harbor Hawaii takes you on a patriotic journey from the site of the Japanese attack on Pearl Harbor to ... Read more
Location: Kona, Hawaii
Duration: 14 hours (approx.)