A lush and historic town with a funky, old-school type of charm, many of the tours from Hilo focus on the volcanic splendor of Hawaii Volcanoes National Park. Located only an hour drive from downtown Hilo (versus 2.5 hours from Kona), tours from Hilo which head into Hawaiian Volcanoes National Park bring visitors face to face with some of the youngest—and most active—stretches of land found anywhere on the planet.
Let your eyes adjust as you weave your way through lava tubes formed by subterranean rivers of lava, or scramble your way over rugged hiking trails to steaming volcanic vents which are heated by the activity below. Occasionally you can view spouting lava from right within the park boundaries, although the timing of which is ultimately up to Mother Nature. While Hawaii Volcanoes National Park is open to all visitors, taking part in a tour from Hilo not only ensures that you don't have to drive yourself to the Park, but also allows you access to the insider knowledge of local tour guides who can provide information on everything from local mythology to where to see the best volcanic activity for that day. Also, as a bonus, many of the tours from Hilo which head out to Volcanoes National Park will also make stops at some of the waterfalls or scenic sites situated around downtown Hilo.
For those wanting to guarantee lava sightings and really maximize their time spent in the area, however, there are few better ways of touring around Hilo and Kilauea volcano than by doing so on a helicopter tour. While helicopters carry a higher price tag than land based excursion, the agile choppers and skilled pilots are able to maneuver visitors into positions which are unreachable for those exploring the area by land. Watch as liquid hot magma descends right into the boiling Pacific and new Earth is created right before your eyes, or gaze in wonder at towering waterfalls along the lush Hamakua coastline as you circle your way back for a landing in downtown Hilo.
While there are a number of different methods for enjoying the beauty around Hilo, whichever tour from Hilo you choose it's guaranteed to shed more light and provide more information on the area than if you were to try and see it all on your own.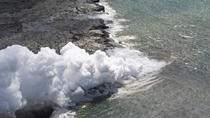 112 Reviews
This Big Island helicopter adventure will show you the best of Hawaii – volcanoes and waterfalls – from the air! Starting from Hilo, you'll ... Read more
Location: Hilo, Hawaii
Duration: 45 minutes (approx.)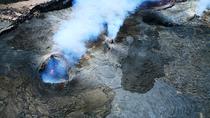 75 Reviews
Feel a Hawaiian volcano's heat radiate from its crater as you experience live volcanic activity up close, with nothing between you and the lava! An ... Read more
Location: Hilo, Hawaii
Duration: 50 minutes (approx.)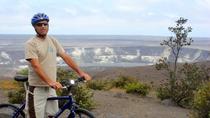 56 Reviews
Join a guided Kilauea Volcano bike tour in the Hawaii Volcano National Park. You'll explore Kilauea Volcano, from its summit to the sea, as you bike down this ... Read more
Location: Hilo, Hawaii
Duration: 4 - 5 hours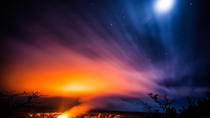 15 Reviews
Make Kilauea Volcano and Hawai`i Volcanoes National Park your destination, and stay past sunset. Explore an active volcano on a fully narrated adventure that ... Read more
Location: Hilo, Hawaii
Duration: 6 hours (approx.)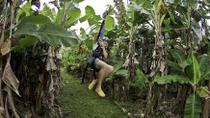 9 Reviews
Get ready for an exhilarating Hawaiian zipline adventure! Soar over cascading waterfalls and lush greenery on seven different ziplines – including one of the ... Read more
Location: Honomu, Hawaii
Duration: 2 hours 30 minutes (approx.)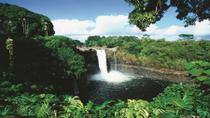 112 Reviews
On your day in port in Hilo, explore two of the Big Island's most spectacular sites on a shore excursion. First, discover Hawaii's scenic Rainbow ... Read more
Location: Hilo, Hawaii
Duration: 6 hours 30 minutes (approx.)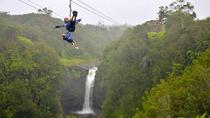 9 Reviews
Take your need for speed to new heights on this thrilling zipline and Volcano adventure. Covering nearly two miles of gorgeous tropical river ... Read more
Location: Hilo, Hawaii
Duration: 10 hours from Hilo; 14 hours from Kona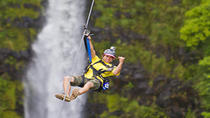 1 Review
Inject some adrenaline into your port stop in Hilo with an exhilarating zipline shore excursion! Get close-up views of the stunning mountain, ocean and jungle ... Read more
Location: Honomu, Hawaii
Duration: 3 hours (approx.)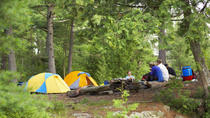 1 Review
On this 2-day Big Island adventure from Kona or Waikoloa, you'll go snorkeling, tour a Kona coffee farm and enjoy a coffee tasting, and take guided hikes to an ... Read more
Location: Kona, Hawaii
Duration: 2 days (approx.)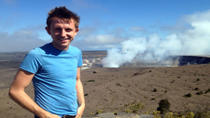 56 Reviews
See the lava fields on a comprehensive, full-day Big Island Hawaii Volcano tour. You'll explore Hawaii Volcano National Park, Kilauea Volcano and Big Island of ... Read more
Location: Hilo, Hawaii
Duration: 9 hours 30 minutes (approx.)