On the east coast of the Big Island of Hawaii, Hilo offers better access than Kona to two of the island's major regions—Hawaii Volcanoes National Park and the Hamakua Coast. Read on for more info about the top activities on this side of Hawaii's largest island.
Volcano Tours
Just 30 miles (48 kilometers) from Hilo—compared to 100 miles (161 kilometers) from Kona—Hawaii Volcanoes National Park is home to two active volcanoes: Mauna Loa and Kilauea. Tours to the park typically last six to nine hours and may include other stops at other sites such as Rainbow Falls, a black-sand beach, or a macadamia nut farm. Helicopter tours from Kona run for about 45 minutes and provide hard-to-beat views of smoke, lava flows, and even nearby waterfalls. Meanwhile, ground tours allow travelers to walk through a lava tube and listen to the hiss of steam rising from the ground—the better experience if you're interested in the geology. Opt for a hiking or biking tour for a more adventurous way to see the park.
Zipline Tours
Hilo's location just south of the verdant Hamakua Coast makes it a great departure point for a zipline adventure among the lush rainforest environment, where you can fly over treetops, rivers, and waterfalls. Tours typically last two to four hours, unless you book a longer day trip that also includes a visit to Hawaii Volcanoes National Park. Courses generally feature seven to nine ziplines, some of which boast Pacific Ocean views and reach more than 2,000 feet (600 meters) in length.
Water Tours
While Hilo enjoys proximity to the Big Island's many waterfalls, such as Akaka Falls, not all of them are swimmable, so book a tour that includes visiting a site safe for swimming if you'd like to take a dip. Other opportunities for getting out on the water from Hilo include introductory scuba diving or a day trip to Papakolea Green Sand Beach, one of only a handful of green-sand beaches on Earth. For snorkeling, you're better off booking a tour from Kona.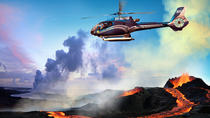 6 Reviews
Tour the most geologically active environment on earth, with emphasis on the most current areas of volcanic activity and black sand beaches, from the comfort ... Read more
Location: Hilo, Hawaii
Duration: 45 minutes (approx.)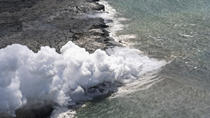 126 Reviews
This Big Island helicopter adventure will show you the best of Hawaii – volcanoes and waterfalls – from the air! Starting from Hilo, you'll journey over miles ... Read more
Location: Hilo, Hawaii
Duration: 45 minutes (approx.)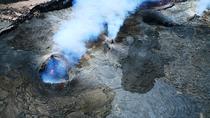 94 Reviews
Feel a Hawaiian volcano's heat radiate from its crater as you experience live volcanic activity up close, with nothing between you and the lava! An open-door ... Read more
Location: Hilo, Hawaii
Duration: 50 minutes (approx.)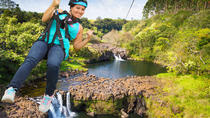 3 Reviews
Soar above stunning Hawaiian rain forest filled with cascading waterfalls and a rambling river on the ultimate zipline adventure. Enjoy a 2-hour, guided ... Read more
Location: Hilo, Hawaii
Duration: 2 hours (approx.)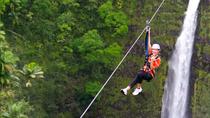 12 Reviews
Get ready for an exhilarating Hawaiian zipline adventure! Soar over cascading waterfalls and lush greenery on seven different ziplines – including one of the ... Read more
Location: Honomu, Hawaii
Duration: 2 hours 30 minutes (approx.)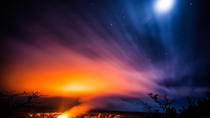 25 Reviews
The original evening volcano adventure and still the best! From lava tubes and waterfalls to the current eruption glow and activity this adventure has it ... Read more
Location: Hilo, Hawaii
Duration: 6 hours (approx.)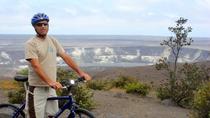 68 Reviews
Join a guided Kilauea Volcano bike tour in the Hawaii Volcano National Park. You'll explore Kilauea Volcano, from its summit to the sea, as you bike down this ... Read more
Location: Hilo, Hawaii
Duration: 5 hours (approx.)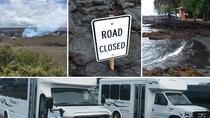 6 Reviews
Volcanoes Adventure Tour From Hilo. Takes you on an adventure to the 2016 lava flow which is one of the most recent lava activity. you will ... Read more
Location: Hilo, Hawaii
Duration: 8 hours (approx.)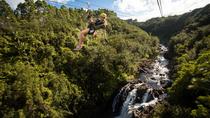 13 Reviews
Take your need for speed to new heights on this thrilling zipline and Volcano adventure. Includes lunch and BBQ Dinner at Volcano Winery.
Location: Hilo, Hawaii
Duration: 14 hours (approx.)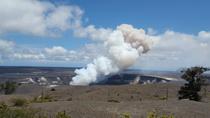 11 Reviews
Waterfall & Volcano Adventure Tour. This tour will take you to all the tourist attraction in or near Hilo. Let this local operator make your day full of ... Read more
Location: Hilo, Hawaii
Duration: 8 hours (approx.)