Hawaii has been called a land of fire for good reason: three of the Big Island's five volcanoes are still active, including Mauna Loa, the world's largest. These fiery outcrops continue to work their magic creating mountains, valleys, and waterfalls. Here's how to decide which volcano tour is best for you.
For the Time-Crunched Visitor
The Big Island is named appropriately–there's a lot to see and much ground to cover. Travelers with limited time to explore the island can benefit from a comprehensive Big Island day tour. A full day touring the island might include visits to Hawaii Volcanoes National Park and its Chain of Craters Road, plus other notable attractions such as Akaka and Rainbow Falls and Punalu'u Black Sand Beach. Day trips to experience the Big Island's volcanoes are possible for travelers staying on the island of Oahu too.
For the Bucket Lister
If there's any destination for a bucket list-style splurge, it's Hawaii. One of the best ways to see the island's volcanoes is from above, aboard a helicopter. Soar over an active volcano, feeling the heat on your skin as you watch lava flow steaming into the ocean. Helicopter tours that include lava viewing range in length from 45 minutes to two hours.
For Couples
Turn up the romance on an already steamy Hawaiian vacation by combining visits to some of the island's top volcanic sites–Mauna Kea State Recreation Area, Kilauea volcano, and the Jaggar Museum at Hawaii Volcanoes National Park–with a romantic dinner at Kilauea Lodge. Finish your day together gazing at the nighttime glow of Halemaumau Crater.
For the Active Traveler
Outdoor enthusiasts and adventure travelers can explore Hawaii's volcanic landscape from the seat of a bike on a cycling tour of the island's active Kilauea volcano. Peddle past lava fields and steaming caters, stopping for a walk through the Thurston Lava Tube and a visit to the Jaggar Museum with its excellent volcanic activity viewing area.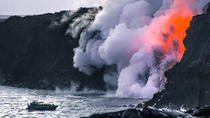 206 Reviews
See the Big Island of Hawaii's stunning beauty on a full-day Grand Circle tour. On the Grand Circle Island Adventure, you'll visit Volcanoes National Park and ... Read more
Location: Kona, Hawaii
Duration: 11 hours 30 minutes (approx.)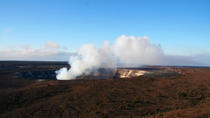 69 Reviews
Journey to the Big Island's Hawaii Volcanoes National Park from Kona or Waikoloa on this exciting day trip, complete with your own personal iPad to use ... Read more
Location: Kona, Hawaii
Duration: 12 hours (approx.)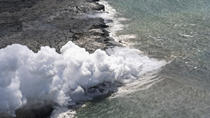 126 Reviews
This Big Island helicopter adventure will show you the best of Hawaii – volcanoes and waterfalls – from the air! Starting from Hilo, you'll journey over miles ... Read more
Location: Hilo, Hawaii
Duration: 45 minutes (approx.)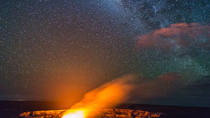 30 Reviews
See rare black sand beaches, taste famous Kona Coffee, walk through a lava tube, and view the fascinating sight of lava glow and the pristine night sky through ... Read more
Location: Kailua-Kona, Hawaii
Duration: 12 hours (approx.)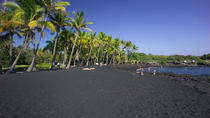 356 Reviews
This 10-11 hour nature tour offers an in-depth look at Hawaii's youngest and largest island. Explore the diverse landscape and natural wonders, including visit ... Read more
Location: Hawaii, Hawaii
Duration: 11 hours (approx.)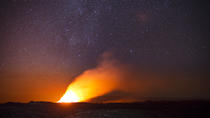 433 Reviews
Discover the sights of the Big Island on this guided day trip from Oahu. Inside Hawaii Volcanoes National Park, a UNESCO-listed site, hike along a crater rim, ... Read more
Location: Waikiki, Oahu
Duration: 15 hours (approx.)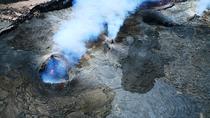 94 Reviews
Feel a Hawaiian volcano's heat radiate from its crater as you experience live volcanic activity up close, with nothing between you and the lava! An open-door ... Read more
Location: Hilo, Hawaii
Duration: 50 minutes (approx.)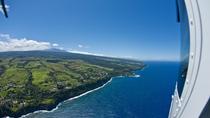 32 Reviews
This exclusive Big Island helicopter tour includes not only wonderful views of Hawaii's famous volcanoes, but also a private landing in a secluded location so ... Read more
Location: Kona, Hawaii
Duration: 3 hours (approx.)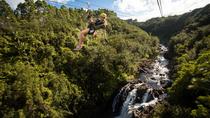 13 Reviews
Take your need for speed to new heights on this thrilling zipline and Volcano adventure. Includes lunch and BBQ Dinner at Volcano Winery.
Location: Hilo, Hawaii
Duration: 14 hours (approx.)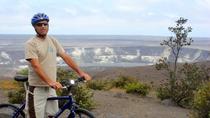 68 Reviews
Join a guided Kilauea Volcano bike tour in the Hawaii Volcano National Park. You'll explore Kilauea Volcano, from its summit to the sea, as you bike down this ... Read more
Location: Hilo, Hawaii
Duration: 4 - 5 hours