From modern art to foodie excursions and a medieval quarter worth getting lost in, here's how to get the most out of a three-day trip to Basque Country's Bilbao.

The Guggenheim and More
It's clear: If you came for one thing, it was to at least see the Guggenheim Museum. Get your visit off to a good start by spending your first day admiring Frank Gehry's architectural marvel both inside and out. Wandering its exterior, you can ponder pieces like the giant plant-covered Flower Puppy, or the eight-legged gangly Maman spider. Inside, browse the museum's permanent collection, as well as its many rotating exhibits.

Take advantage of your visit to the area by crossing the river to the opposite side of town. Get there via the pedestrian-only White Bridge – or Zubizuri Bridge – which will drop you off just blocks away from the Artxanda Funicular boarding station. There, you can hitch a ride on the rack railway, climbing 200-plus meters to the top of Mount Artxanda, where you can take in views of the city you'll be crisscrossing in the days to come.

Casco Antiguo
Go from modern to medieval by heading south of the Guggenheim and to yet another area east of the riverbank. There, you'll find the city's Casco Viejo, or Old Quarter. Once consisting of just seven streets, the expanded neighborhood retains its old-world charm, attracting both tourists and locals alike.

While there, make stops at the city's over-600-year-old Santiago Cathedral, get to the bottom of Basque culture at the Museo Vasco, peruse Europe's largest indoor market at El Mercado de la Ribera, and experience the arts at Teatro Arriaga Antzokia. More important than probably anything else: Spend some time immersing yourself in the neighborhood's culinary scene by going on a bar crawl to sample pintxos (Basque-style tapas) and sip on txakoli (a local dry white wine).

The Center
Finish your third day by staying central. You'll find the area's top spots radiate from the city's main square, Plaza Moyúa. First, head due south to the Alhóndiga Bilbao, a Philippe Starck-designed cultural central, complete with a see-through ceiling to the rooftop pool, and the fancy (and worth-a-try) restaurant Yandiola,

From there, stroll over to, and then around, Bilbao's beloved Doña Casilda Iturrizar Park before fitting in yet another dose of art at the nearby Museo de Bellas Artes. Check out the museum's collection of traditional works, including paintings, sculptures and ceramics by Basque and Spanish artists, but also international ones as well.

Finish off your day with some shopping in the city's main fashion district, located along Gran Vía Don Diego López de Haro (known simply as Gran Vía). After that, head a bit north to the Albia Gardens, where you can relax, or even visit the free-to-enter San Vicente Martír de Abando Church to admire its unexpectedly spectacular interior.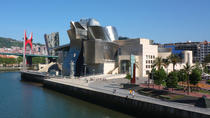 10 Reviews
Explore the Guggenheim Bilbao Museum with a private guide, and spend 1.5 hours admiring exciting art and architecture from around the world with an official ... Read more
Location: Bilbao, Spain
Duration: 90 minutes (approx.)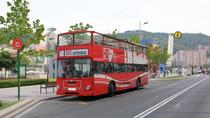 44 Reviews
Look at Bilbao from a different point of view. Hop on a double-decker bus and discover the highlights of the city.
Location: Bilbao, Spain
Duration: 1 day (approx.)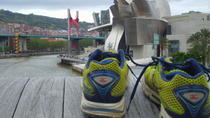 1 Review
Enjoy sightseeing with a different in the city of Bilbao whilst running. This way you can combine your training with a visit to Bilbao. Tours can be customized ... Read more
Location: Bilbao, Spain
Duration: 90 minutes (approx.)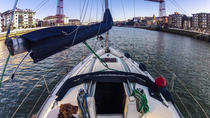 Capture Bilbao's urban revitalization on this scenic 2-hour sailboat cruise in its estuary, or Ría de Bilbao. Starting at the Maritime Museum, your ... Read more
Location: Bilbao, Spain
Duration: 2 hours (approx.)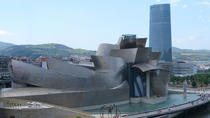 Eat your way through Basque Country's most populous city on a 2-night stay in Bilbao. Explore the history of the thriving Spanish community during a ... Read more
Location: Bilbao, Spain
Duration: 3 days (approx.)