Australia's Blue Mountains are home to some of the country's best outdoor activities. Here, travelers can wander through natural passes, climb towering peaks, take a dip in a natural pool, or descend into lush mountain valleys.

Walk and Wander
Visitors can enjoy a laundry list of treks and trails that pass through rainforests and rocky crags. The Jellybean Pool ends at a well-known water hole where most walkers pause for a refreshing dip. The more adventurous can embark on a three-day journey on Six Foot Track—45-kilometers of rugged terrain.

Ride the Range
Skip Katoomba's Scenic Railway. Instead, travel the Coachwood Glen Nature Trail on horseback. This is the only way to see the Megalong Valley. The trail winds through rainforest, dells and mountain ash, making it an easy, but scenic journey.

Check Out Jenolan Caves
Pass through Katoomba and stop for a view of Three Sisters from Echo Point before visiting Jenolan Caves. Estimated to be 340 million years old, Jenolan Caves may be the oldest on earth. Take a guided tour through the 10 sub-caves. Enjoy an underground concert at the Cathedral Cave, where perfect acoustics make any song sound just right.

Adrenaline Adventures
With so many mountain cliffs, waterfalls and steep terrain, the Blue Mountains are an ideal destination for extreme-sports enthusiasts. Canoe along one of the park's natural rivers or abseil from atop any of the Blue Mountain's scenic cliffs. Hire a 4-WD vehicle to explore areas no tour bus can travel or spend a day mountain biking on Narrow Neck plateau and the Hanging Rock.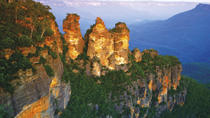 1099 Reviews
Discover the beautiful wilderness on Sydney's doorstep on a day trip to the World Heritage-listed Blue Mountains. Enjoy spectacular views over the Megalong ... Read more
Location: Sydney, Australia
Duration: 9 hours 30 minutes (approx.)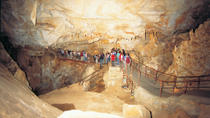 189 Reviews
Enjoy a trip through the scenic Blue Mountains and admire the otherworldly beauty of the Jenolan Caves on a day tour from Sydney. Pass through the mountain ... Read more
Location: Sydney, Australia
Duration: 11 hours (approx.)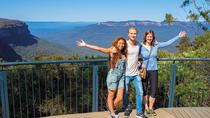 817 Reviews
Experience the beauty and tranquility of the Blue Mountains on a full-day, small-group tour from Sydney. See highlights including the Three Sisters as you soar ... Read more
Location: Sydney, Australia
Duration: 10 hours (approx.)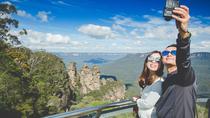 388 Reviews
Escape the city and enjoy the tranquility of the UNESCO World Heritage-listed Blue Mountains on this day trip from Sydney. Enjoy a guided walk to Wentworth ... Read more
Location: Sydney, Australia
Duration: 11 hours (approx.)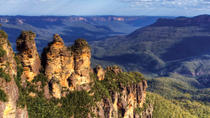 12 Reviews
Enjoy a Blue Mountains day tour including the Three Sisters, Scenic World, Featherdale Wildlife Park and a cruise down the Parramatta River. Take in the ... Read more
Location: Sydney, Australia
Duration: Flexible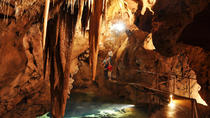 20 Reviews
Experience the tranquillity of the Blue Mountains and the limestone crystal formations within Jenolan Caves on this day trip from Sydney. Start your day with a ... Read more
Location: Sydney, Australia
Duration: 11 hours (approx.)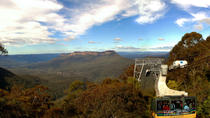 20 Reviews
Enjoy a Blue Mountains day tour including the Three Sisters, Featherdale Wildlife Park and a cruise down the Parramatta River. Upgrade your tour and include an ... Read more
Location: Sydney, Australia
Duration: Flexible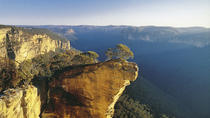 19 Reviews
Explore the UNESCO World Heritage-listed Blue Mountains on a scenic helicopter tour from Sydney. Take in spectacular aerial views of the Sydney Opera House and ... Read more
Location: Sydney, Australia
Duration: 5 hours (approx.)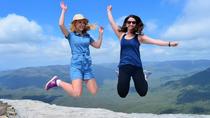 9 Reviews
Enjoy this private Blue Mountains Day Trip by 4WD departing from both the Blue Mountains and Sydney CBD. Visit the Three Sisters, Wentworth Falls, Little ... Read more
Location: Sydney, Australia
Duration: 8 hours (approx.)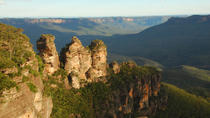 179 Reviews
Head for the hills and experience the natural beauty of the Blue Mountains on this small group day trip from Sydney. Travel on a complete loop of the World ... Read more
Location: Sydney, Australia
Duration: 10 hours (approx.)