Bodrum RECOMMENDATIONS See all
Diving in Bodrum
By Viator, April 2014
No reviews, be the first!
With high underwater visibility and warm waters even during the winter months, the Bodrum Peninsula is renowned as one of Turkey's top scuba diving destinations. There are numerous spots for snorkeling and sailing all around the coast, but the real highlight of choosing to dive in this area is the underwater diversity. Along with colorful corals and schools of tropical fish, there are also sunken ruins of ancient cities to explore and long abandoned ship wreck remains. Divers can glide through the area's underwater caves and follow dramatic rock walls and drop-offs. 
Don't worry if you've never dived before – one-on-one, fully instructed dives are perfect for first-timers, as they include ample time for practice before allowing divers to head out to sea. If you find yourself bitten by the diving bug, many of Bodrum's diving schools offer diving certification courses from the Professional Association of Diving Instructors. 
The prime diving season runs from April to November (although it's possible out of season too) with the most popular sites located around Kara Ada (Black Island), just off the shore of Bodrum. Here, first-time divers can discover everything from sea turtles and octopus to moray-eels, jack-fish and rays while exploring the shallower waters around South Point. Certified divers can explore the rock wall of Aksona, the boat wrecks of Pacoz Bay or the popping coral landscape of the Bubble Cave. Depths range from six meters for beginners up to 35 meters for more experienced divers.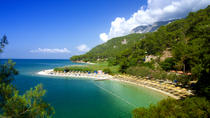 2 Reviews
Sail by Turkish 'gulet,' a traditional wooden sail boat, around the breathtaking Gulf of Gökova on a 7-night cruise from Bodrum. Introducing you to the ... Read more
Location: Bodrum, Turkey
Duration: 8 days (approx.)