Without a doubt, Bora Bora's greatest attraction is its consistent warm and sunny climate which remains fairly stable all year round. As a result (and as you may have guessed) the most common outdoor activities on the island all revolve around the beaches and the ocean.

The most popular activities for visitors are swimming and snorkeling in the warm waters of the lagoon. The island is surrounded by a barrier reef which is home to over 500 species of marine life, so there is a lot to discover! Scuba diving trips are also easily arranged, or, if you'd rather reinforce your position at the top of the food chain, you can go on a deep sea fishing excursion. Adventure activities are also popular including jet-ski tours, parasailing and kite surfing.

Up on land there are plenty of options as well. There are several hikes through the jungle, none lasting longer than an afternoon, as well as jeep tours which will take you up to see the WWII cannons.
You can also climb Mount Pahia, although it's recommended to hire a guide as some people have become lost or injured on the steep hike.

However you decide to spend your time, remember to wear sunscreen against the super strong tropical sun!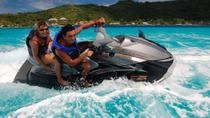 77 Reviews
Make the most of your time on Bora Bora by combining a Jet Ski tour with a shark and stingray boat safari for a full day of the island's most popular ... Read more
Location: Bora Bora, French Polynesia
Duration: 6 hours 30 minutes (approx.)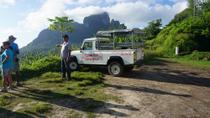 93 Reviews
Discover the natural beauty and culture of Bora Bora on a half-day 4WD tour with an experienced guide. Circle the entire island, making several stops along the ... Read more
Location: Bora Bora, French Polynesia
Duration: 3 hours (approx.)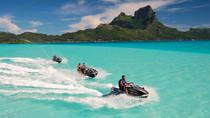 33 Reviews
Zip around the turquoise lagoons of Bora Bora on a Jet Ski tour with an experienced guide. Have some adrenaline-fueled fun as you cruise in warm waters, taking ... Read more
Location: Bora Bora, French Polynesia
Duration: 2 hours (approx.)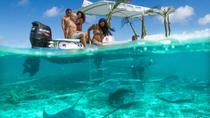 31 Reviews
Indulge in Bora Bora's exquisite natural beauty and warm hospitality on a small-group snorkeling tour. You'll cruise to the best spots to snorkel and swim in ... Read more
Location: Bora Bora, French Polynesia
Duration: 6 hours (approx.)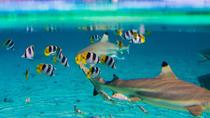 41 Reviews
Enjoy the ultimate day in paradise with a full-day cruise around the gorgeous lagoons of Bora Bora. Meet gentle stingrays and see black-tip reef sharks, ... Read more
Location: Bora Bora, French Polynesia
Duration: 6 hours (approx.)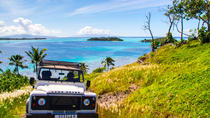 26 Reviews
Explore Bora Bora by land and sea is full of fantastic photo ops! Start with a 4WD tour by open-air safari truck that circles the volcanic island, stopping at ... Read more
Location: Bora Bora, French Polynesia
Duration: 7 hours (approx.)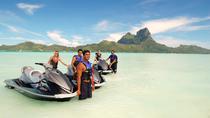 11 Reviews
This combo tour of Bora Bora by land and sea is full of fantastic photo ops! Start with a 4WD tour by open-air safari truck that circles the volcanic island, ... Read more
Location: Bora Bora, French Polynesia
Duration: 7 hours (approx.)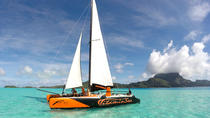 3 Reviews
Sail to the most amazing spots in Bora Bora's unique lagoon on stunning Vitamin Sea former racing 40 ft catamaran. Swim and celebrate in unique Paradise Bay ... Read more
Location: Bora Bora, French Polynesia
Duration: 4 hours (approx.)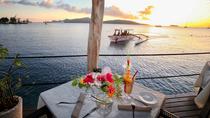 21 Reviews
Sip a glass of sparkling wine at day's end as you cruise on Bora Bora's lagoon watching the setting South Pacific sun as it fades into the horizon. Just relax ... Read more
Location: Bora Bora, French Polynesia
Duration: 4 hours (approx.)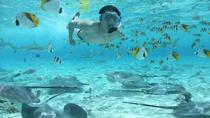 47 Reviews
Experience the thrill of snorkeling in Bora Bora with black-tip reef sharks, stingrays and tropical fish on this 2.5-hour trip by motorized boat. Slip into the ... Read more
Location: Bora Bora, French Polynesia
Duration: Flexible