Suggested Itineraries: 3 Days in Bora Bora
By Viator, August 2015
Bora Bora features myriad worthwhile attractions. This can make it hard for visitors with only a few days to decide how to spend their time. To help you make the most of your time in this French Polynesian paradise, here are some suggestions.

Day 1: Hit the beach and have an underwater adventure

Bora Bora is known for its turquoise waters and beautiful beaches, the most popular being Matira Beach, the only public access beach in Bora Bora. Along with offering a paradisaical setting, the beach is home to numerous hiking trails, lush palm trees, green hills, calm translucent waters for snorkeling and delicious restaurants. The best spot to see colorful marine life like Clown fish, Butterfly fish, Angelfish and Parrotfish is near the east side of the beach out toward the barrier reef near the underwater coral gardens.

On the eastern side of the beach is also where you can access a walking trail that takes you to a lookout point toward Mount Otemanu and Motu Toopua. When you get hungry, start walking toward Vaitape to Bora Bora's most famous hangout, Bloody Mary's. The restaurant and bar has an immersive island feel, with a laid-back vibe, tree trunk stools, tropical wood tables, straw umbrella shading and a floor made of sand.

If you're feeling daring, you may want to book a tour where you can snorkel and hand feed fish, sting rays, sharks and turtles. After you've fed the marine life, enjoy your own lunch on a private motu (a little island made of coral).

Day 2: Shopping, art and culture

For those with a love of shopping, Bora Bora is renowned for its beautiful black Cultured Tahiti Pearls, created from the destination's warm water lagoons and soft sand. While called black pearls, these jewels are often tinted in shades of green, blue, bronze and pink, as well as a variety of shapes and sizes. To qualify as a Cultured Tahiti Pearl, the pearl must be locally cultivated by Pinctada Margaritifera oysters and have nacre covering 80% of the pearl's surface. Because these jewels are highly sought after, you'll often see scammers trying to imitate them. For that reason, it's wise to go to a reputable shop like The Farm located near Hotel Bora Bora and Matira Pearls near the Intercontinental Le Moana Resort.

Bora Bora also has a rich arts culture. For example, the word "tattoo" originated in French Polynesia, and in the culture they are thought to be signs of beauty. It's a ceremonious tradition that has been going on for hundreds of years. While most tattoo artists adhere to high standards of cleanliness and care in the shop, they often still work with traditional themes from their ancestors.

If getting a tattoo isn't on your bucket list, it is still worthwhile to take a peek in a local tattoo shop to see what it's all about. Additionally, littered throughout the island you can find galleries and artisan sellers showcasing art and handicrafts made by locals.

At night, check out a show of traditional Tahitian fire dancers as they combine pyrotechnics and acrobatics. Many of the local resorts host this event, and you can ask your hotel where you can go to see it for yourself.

Day 3: Just relax

Bora Bora is a tranquil island, the perfect place to just disconnect and relax. Start your day with a traditional massage or treatment at a spa. While the "Mahana Here" after sun treatment rejuvenates skin with a ginger-coconut exfoliation, an aloe and Tamanu massage and body wrap, the traditional Tahitian "Maohi Nui" massage combines traditional and modern Polynesian techniques with deep forearm work, repetitive strokes and a fast pace.

Another menu favorite is the aromatherapy baths, which come in nourishing coconut milk, softening tiare with or without tropical flowers and energizing citrus.

Afterward, visit Faanui Bay to take in beautiful views, sacred sites and one of the most charming pink churches in Tahiti, enhanced by a background of lush green mountains.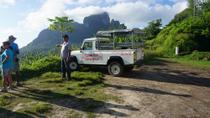 66 Reviews
Discover the natural beauty and culture of Bora Bora on a half-day 4WD tour with an experienced guide. Circle the entire island, making several stops along the ... Read more
Location: Bora Bora, French Polynesia
Duration: 3 hours 30 minutes (approx.)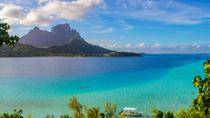 24 Reviews
See the best of Bora Bora by land and sea with a combination of popular tours that includes a morning 4WD tour of the island and an afternoon boat cruise. ... Read more
Location: Bora Bora, French Polynesia
Duration: 8 hours (approx.)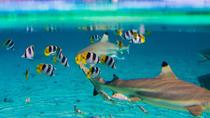 32 Reviews
Enjoy the ultimate day in paradise with a full-day cruise around the gorgeous lagoons of Bora Bora. Meet gentle stingrays and see black-tip reef sharks, ... Read more
Location: Bora Bora, French Polynesia
Duration: 7 hours (approx.)