Quinconces Square (Esplanade des Quinconces) Tours
The Quinconces Square (known locally as the Esplanade de Quinconces) certainly impresses with its size - at 12 hectares (30 acres) it's one of Europe's largest squares. And it's impressively situated on the banks of the Garonne, laid out in a semi-circle with trees planted in geometric patterns based on the number five (it's these patterns that give the Esplanade its name).
Laid out in the early 1800s, the square is adorned by some massive public statuary. There are rostral columns, statues of Montaigne and Montesquieu, and an immense monument to the Girondists, who were executed during the Revolution. 
The monument is a riot of bronze horses and warriors. During WWII it was dismantled by the Germans and the bronze melted, but it has since been restored.
Practical Info
Practically all the public transport of the city runs through this point, so you'll find it easy to get to.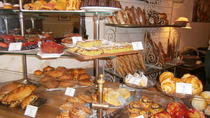 49 Reviews
Taste Bordeaux's many delights on this 4-hour gourmet food tour. Exploring the city on foot with your food-lover guide, visit well-known local shops to meet ... Read more
Location: Bordeaux, France
Duration: 4 hours (approx.)
19 Reviews
Enjoy a full day of gorgeous vineyards, stunning châteaux, fine wine and fresh oysters as you visit the Médoc wine region and the Bay of Arcachon for ... Read more
Location: Bordeaux, France
Duration: 10 hours (approx.)
14 Reviews
Explore Bordeaux in style and discover top attractions such as Place des Quinconces, Rue Sainte-Catherine, Place de la Comédie and Bordeaux Cathedral on ... Read more
Location: Bordeaux, France
Duration: 1-1.5 hours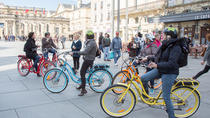 Explore UNESCO-listed Bordeaux in style and discover top attractions with ease on this 2-hour Electric Bike tour. Follow a guide through the streets of ... Read more
Location: Bordeaux, France
Duration: 2 hours (approx.)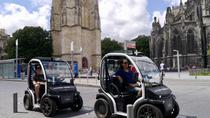 1 Review
Enjoy this 1.5 hours tour in a little electric car for a lot of fun in town. It has great 360° visibility with its glass roof to fully discover Bordeaux ... Read more
Location: Bordeaux, France
Duration: 90 minutes (approx.)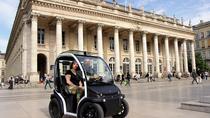 2 Reviews
Visit Bordeaux at your own rhythm, discover its most beautiful monuments but also contemporary Bordeaux aboard an electric vehicle equipped with a GPS ... Read more
Location: Bordeaux, France
Duration: 2 hours 30 minutes (approx.)