As one of the closest coastal resorts to Bordeaux, the lively beach town of Arcachon makes a popular retreat for city dwellers and tourists following the region's famous wine trail, but the sun-drenched shores of the Côte d'Argent are famous for more than just pristine beaches. With a history of oyster harvesting dating back to ancient times and some 10,000 tons of oysters produced each year, slurping your way through a platter of fresh-from-the-sea oysters is a time-honored pastime in Arcachon.
The large Pacific oysters grown in Arcachon are renowned as some of the tastiest in France, and the region is one of only two regions where the oysters reproduce naturally, providing growing seed for farms all around France. Today about 350 oyster farms are dotted around the bay, the oldest of which dates back to 1849, and visiting the farms is a popular activity for visitors, offering the chance to sample fresh oysters and learn about oyster cultivation. There's even an entire museum devoted to the mollusks—the Oyster House in Larros port.
Whether you're a seafood aficionado or an oyster virgin, you simply can't leave town without trying some of Arcachon's famous oysters, and you won't have to look far to find them either. During the summer, the region's oyster-farming villages host a number of oyster festivals, oyster stalls line the sidewalks and seafront restaurants serve up huge bowls of oysters, accompanied by a fine selection of Bordeaux's white wines.
13 Reviews
Enjoy a full day of gorgeous vineyards, stunning châteaux, fine wine and fresh oysters as you visit the Médoc wine region and the Bay of Arcachon for ... Read more
Location: Bordeaux, France
Duration: 10 hours (approx.)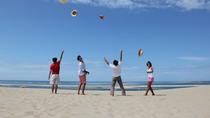 16 Reviews
Spend a morning away from Bordeaux on this half-day trip to the Bay of Arcachon. On this small-group tour, visit Pyla Dune (Dune du Pyla), the largest sand ... Read more
Location: Bordeaux, France
Duration: 4 hours 30 minutes (approx.)