Discover dolphins in Tortola! Surrounded by green mountains, virgin beaches, and crystal clear Caribbean water, Tortola is the perfect place in the BVI to have an amazing experience with these soulful creatures.

Dolphins are widely hailed as man's best oceanic friend, and spending a day in the water with these happy, intelligent, and powerful creatures is truly a remarkable experience and usually only takes about a half day. Unlike other dolphin experiences that don't let you personally interact with the animals, dolphin encounters here on Tortola involve quite the opposite. Upon entrance, your new underwater friends greet you with a handshake and a kiss! Then, depending on your chosen package, you'll either jump in the water and start swimming with the dolphins, or watch as trainers ask the dolphins to perform tricks for treats.

You'll feel instantly connected with these amazing creatures as you play with them, watch them jump for food, skip along the water, talk to you (well, they'll chirp in their way…), and take you for a ride throughout the water. Feel the sensation as you see these remarkable creatures break a smile, and know that playing with you caused it. Repeatedly voted as one of the top outdoor experiences in all of the British Virgin Islands, swimming with dolphins is a remarkable experience.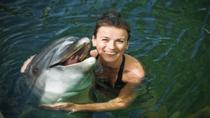 13 Reviews
The Virgin Islands offers one of the most exhilarating experiences available. The Royal Dolphin Swim is the perfect way to discover this gentle, friendly and ... Read more
Location: Tortola, British Virgin Islands
Duration: 60 minutes (approx.)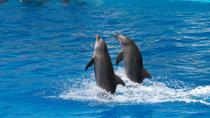 8 Reviews
The Dolphin Discovery program is tailored to suit passengers of all ages and capabilities! Waist deep in water, you'll kiss, caress and observe the dolphins as ... Read more
Location: Tortola, British Virgin Islands
Duration: 45 minutes (approx.)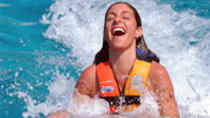 17 Reviews
Have you ever kissed a dolphin? Here is your chance to get close to one of the sea's most incredible creatures. Be amazed at how intelligent these animals are. ... Read more
Location: Tortola, British Virgin Islands
Duration: 45 minutes (approx.)