Gantheaume Point
The glorious red cliffs at Gantheaume Point contrast starkly with the bright blue water to create a spectacular scene, especially at sunset as the rock glows red. To its the north is Cable Beach, and to its south is a small fishing beach that ...
Tours & Tickets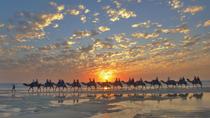 132 Reviews
See the sights of Broome, the star of Western Australia's Kimberley region, on a comprehensive half-day tour. The tour takes you to Broome's Chinatown and ... Read more
Location: Broome, Australia
Duration: 6 hours (approx.)
6 Reviews
A great afternoon tour taking in the highlights of Broome, providing an insight into the heritage of this charming town and colorful alfresco lifestyle.
Location: Broome, Australia
Duration: 6 hours (approx.)