Camels are one of the oddities of the Australian desert. First introduced in the 19th Century for transport, the camel population has thrived far past initial expectations and camel tours are now one of the most unique experiences in Australia.

For almost 50 years, camels were imported to Australia from India, North Africa, Arabia and even China and Mongolia for riding and heavy work. Thriving in the harsh, arid desert environment of the country's center, camels proved their worth over and over until the rise of motorized transport in the early 20th Century. Rather than export or cull the herds that had become established in Australia, the camels were instead released into the wild.

Today there are over one million wild camels in the Australian desert, including the only wild herd of dromedaries in the world. The herds have now been identified as pests, decimating the scant desert vegetation and wreaking havock on local ecosystems. Culling and exportation of camels for meat, racing and tourism in countries such as Saudi Arabia, the United Arab Emirates, Malaysia and even the United States of America seeks to rectify the booming population.

For all the camels that live wild in Australia, and those that are exported, there are some that are domesticated and still doing the tasks they were originally brought down to Australia for. Being ridden is one of those tasks, and camel tours are a fantastic way to ensure the camels, and the desert environment, are well looked after.

Typically camel tours in Broome run along Cable Beach. A sunset tour is a beautiful way to end the day whilst watch the sun set over the ocean – something not even many Australians see! Sunset or not, you're in for a treat. Many of the camels trained for tours have been rescued and all have been carefully selected. You'll experience the odd gait of the camel walking across sand and get to know their incredibly individual and often mischievous personalities. Learn more about the history of camels in Australia as well as the varied pasts of the camels you're riding on this fun-filled adventure!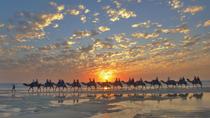 33 Reviews
See the sights of Broome, the star of Western Australia's Kimberley region, on a comprehensive half-day tour. The tour takes you to Broome's Chinatown and ... Read more
Location: Broome, Australia
Duration: 6 hours (approx.)