Bruges RECOMMENDATIONS See all
Day Trips from Bruges
By Viator, November 2015
No reviews, be the first!
Time has stood still in handsome Bruges, one of the most popular visitor destinations in northern Europe, with more than two million annually hitting the cobbled piazzas and canals of the self-styled 'Venice of the North'.

This pocket-sized Flemish city flourished as a port up until the 15th century, when its fortunes dried up along with the sea and now it appears to exist in a medieval time bubble. Although it's hard to desert Bruges's copious charms, there are many great day trips to be had across the Flanders region and beyond.

Bruges is ideally situated to spend a day exploring the somber WWI battlefields of Flanders; 300,000 Allied soldiers lost their lives around Ypres in the last four years of the war and the city itself was destroyed, only to be immaculately restored. There are more than 200 memorials and cemeteries to the French, Belgian, US, Canadian, Australian, New Zealand and British troops who died on the fields of Flanders. Day tours guided by military experts take in battlefields at Paschendaele and the Salient; the memorials at Polygon Wood and St Julien; Tyne Cot Cemetery; and the evocative evening-time Ceremony of the Last Post at Ypres's Menin Gate.

Just over an hour south of Bruges, Belgium's capital city Brussels has a medieval center, Art Nouveau mansions and a multitude of museums in the flamboyant Royal Quarter all begging to be discovered, along with the glittering skyscrapers of the EU headquarters. While you're there, be sure to sample beers in local microbreweries and pralines from gourmet chocolatiers.

Halfway to Brussels from Bruges, pint-sized Ghent is crammed with canals, Gothic architecture, castles and gourmet restaurants. The cobbled town boasts 900 listed buildings including the Gothic delights of St Nicholas Church, the Belfry, Saint Bavo's Cathedral and the 12th-century Gravensteen Castle as well as a cluster of innovative art galleries in which to part with lots of money.

It's also possible to cross the border into The Netherlands for a day's exploration of cosmopolitan Amsterdam, with its heady mix of world-beating art museums and downtown vibes in the Red Light District; majestic 17th-century palaces and innovative new architecture. Smart boutiques vie with trendy street markets and cool clubs compete with traditional brown cafés in this city of two halves.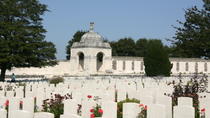 101 Reviews
Explore Flanders' World War I battlefields on a full-day tour from Bruges, following in the footsteps of soldiers from around the world. With an expert guide ... Read more
Location: Bruges, Belgium
Duration: 11 hours (approx.)