If you're staying in Brussels and fancy exploring two countries in one day, the tiny Duchy of Luxembourg might just be the answer. Luxembourg is a two-hour drive away and the scenic route adds to the enjoyment of a day trip as it winds through the photogenic town of Dinant, perched prettily on the picturesque River Meuse, and on through the fertile, rolling hills of the Ardennes.

WWII buffs can stop off in Bastogne, devastated during the notorious Battle of the Bulge in 1944 in the closing days of the war. Now largely rebuilt, the Belgian town is home to the enormous star-shaped Mardasson Memorial, constructed in 1950 to honor the 77,000 American soldiers killed in the battle.

Once over the border into Luxembourg itself, the road clings to the side of the Moselle River, bordered by steep vineyards coating the hillsides and interspersed with fairy-tale castles sitting atop rocky crags. This pint-sized country is only 51.5 miles (82 km) long and 35.5 miles (57 km) wide, and its miniscule capital – also called Luxembourg – straddles the gorges of the rivers Alzette and Pétrusse.

Luxembourg is an enchanting city packed with castles, palaces, grand cathedrals and pastel-hued gabled houses, mainly centered on the UNESCO World Heritage listed Haute Ville (high town). Around this historic heart a modern city spans out with a choice of museums and stores in among the skyscraper banking headquarters.

Start a tour of the Haute Ville at the 12th-century fortified castle, high on its rocky escarpment, and walk down the Chemin de La Corniche, following the castle ramparts into the Haute Ville. Visit the 17th-century Grand Duke's Palace on rue du Marché aux Herbes, with its elaborate Moorish façade, peek into the magnificent Gothic Cathedral of Notre-Dame, and time permitting, explore the stylish district of Grund, tucked below the cliffs of the Alzette gorge and packed with bars and restaurants.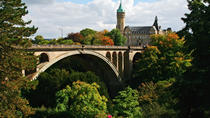 493 Reviews
Make the most of your time in Brussels and uncover thousands of years of European heritage on this full-day Luxembourg day trip from Brussels. Explore old and ... Read more
Location: Brussels, Belgium
Duration: 11 hours (approx.)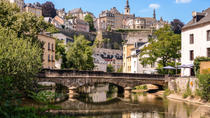 12 Reviews
Leave Brussels in Belgium and visit Luxembourg to experience two different countries in one day! With a private guide, travel through the small country and ... Read more
Location: Brussels, Belgium
Duration: 11 hours (approx.)