Is Tintin the world's greatest explorer? Haven't we all dreamt of traveling on the ultimate quest – to defeat evil, find treasure, see the world and become rich - all with a trusted dog by our side?

Tintin and dog Snowy sail the high seas, cross deserts, fly planes and dive for shipwrecks on the adventure of a lifetime - an adventure that has just come to the big screen courtesy of Steven Spielberg and Peter Jackson, two film visionaries - but Tintin has been trotting the globe looking for truth and finding tricky situations for nearly a century.

In Belgium in 1929 an illustrator calling himself Herge first dreamed up Tintin and his faithful white Fox Terrier, Snowy, and sent them on a comic strip adventure through the Soviet Union (now Russia). Tintin was so instantly popular that Herge went on to create 24 graphic novels in the series, all based on travels around the globe in a recognizably 20th century world.

The books have now been published in 50 languages; clearly, everyone wants to adventure – even if only vicariously through the lives of Tintin, Snowy and friends.

Over the years, Tintin traveled to the Congo, Egypt, Morocco, Tibet, India, China, Japan, the Middle East, even the Moon. Did Herge himself really do all the travel as research? Or was he, like most of us, doing as much travel as possible and visiting the rest of the world via his imagination?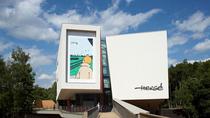 13 Reviews
Learn about Belgian comics writer and artist Hergé at his eponymous Brussels museum, dedicated to his breadth of work, including his famous 'The ... Read more
Location: Brussels, Belgium
Duration: 4 hours (approx.)