Most people come to Palermo to enjoy the urban sights that Buenos Aires has to offer. There are several different sections, from mainstream to bohemian and from fashion and design to residential. And then there is Parque Tres de Febrero. This nearly 1,000-acre park is also referred to as the "Bosques del Palermo" (Palermo Woods).
The park has been in existence in a variety of forms since 1875, and over the years it has undergone additions including a zoo, a botanical garden and a rose garden, as well as the world's largest Japanese garden outside of Japan. The park is popularly used by pedestrians and cyclists and is busiest on the weekends, when you can even take a boat ride in one of the artificial lakes. Visitors can spend a couple of hours walking among the trees and over the bridges that cross some of the lakes, or sitting in one of the gazebos to enjoy the tranquil park.
Parque Tres de Febrero contains many species of trees and plants from around Argentina (introduced and endemic), including eucalyptus, wide-buttressed ceibas and lavender-blooming jacarandas. Make sure to look up, as there are climbing vines and epiphytes, as well as up to 194 species of birds that have been seen here, including kingfishers and woodpeckers. In the summer the gardens also attract butterflies.
Practical Info
Poetry lovers will want to check out the Poet's Garden, with busts of Argentine and other famous poets, including, of course, one of Argentina's most famous writers, Jorge Luis Borges. The park is accessible via bus 10, 34 and 130.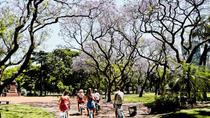 Considered the "lungs" of Buenos Aires, the northern areas of the city are covered with public green spaces, gardens, plazas, lakes, a zoo and much more. This ... Read more
Location: Buenos Aires, Argentina
Duration: 5 hours (approx.)
151 Reviews
Get to know Buenos Aires with a Super Saver tour that combines the best cultural attractions in one day! Start with a trip to the Tigre Delta for a relaxing ... Read more
Location: Buenos Aires, Argentina
Duration: 12 hours (approx.)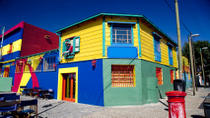 375 Reviews
Discover Buenos Aires' must-see sights on this 3-hour sightseeing coach tour. You'll hit all the top attractions and neighborhoods, including Plaza de Mayo, ... Read more
Location: Buenos Aires, Argentina
Duration: 3 hours (approx.)
72 Reviews
See some of northern Buenos Aires' best-known districts – Recoleta, Puerto Madero and Palermo – on a fun and entertaining bike tour. With a knowledgeable ... Read more
Location: Buenos Aires, Argentina
Duration: 3 hours 30 minutes (approx.)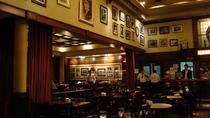 Experience a private Buenos Aires City tour including lunch in a Remarkable Bar and in the evening enjoy a Dinner and Tango Show at Catulo Tango!
Location: Buenos Aires, Argentina
Duration: 8 hours (approx.)
Enjoy the best of Buenos Aires City with this Super Saver that includes a 3-hour Buenos Aires City tour in regular service followed by a Dinner and Tango Show ... Read more
Location: Buenos Aires, Argentina
Duration: 1 day (approx.)
1 Review
Don't miss the opportunity to experience the best of Argentinian traditions by visiting Estancia 'Santa Susana' and enjoying a popular Dinner and Tango Show at ... Read more
Location: Buenos Aires, Argentina
Duration: 1 day (approx.)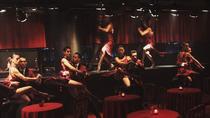 The best way to know Buenos Aires is to have a professional guide who will take you to the best places at the right time. Your guide will help you to enjoy ... Read more
Location: Buenos Aires, Argentina
Duration: 6 to 7 hrs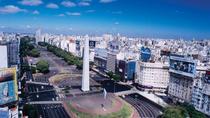 Take a private tour of Buenos Aires with an English Speaking Driver.  Visit all the major sights in the comfort of an air conditioned car. your guide will park ... Read more
Location: Buenos Aires, Argentina
Duration: 3 hours (approx.)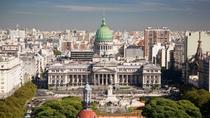 Discover Buenos Aires in three fabulous nights with this hotel and tour combo. Learn the history and culture behind Argentina's capital city while ... Read more
Location: Buenos Aires, Argentina
Duration: 4 days (approx.)