The fertile grassy plains of La Pampa stretch south from Buenos Aires, trickling down to the toe of Argentina and Patagonia. Vineyards are a recent addition to La Pampa, but for centuries the region has been the legendary home of the gaucho, Argentina's cowboys, and the country's famous cattle.
The folklore and outdoors way of life represented by the gauchos is alive and well in Argentina's estancias, or cattle ranches. Some working cattle ranches welcome guests, so saddle up and get the lowdown on life on the Pampas. It promises to be a full day of entertainment, with horse riding, a traditional asado barbecue lunch, gaucho music and dance.
Every November, La Pampa's gauchos congregate in the town of San Antonio de Areco to celebrate the annual Día de la Tradición, so plan your visit to San Antonio for November 10 for the best displays of cowboy fun and games around.
Expect folk music, woven ponchos, rodeos and competition horsemanship, horseback parades and displays of decorated gaucho gear, including tooled leather saddles and spurs. San Antonio de Areco is only 113 km (70 miles) west of Buenos Aires, so year-round it's a rewarding destination for horse riding, gaucho crafts, and a steak lunch at a traditional parrilla steakhouse. Gauchos invented the Argentine method of barbecuing meat, honing their culinary skills over the open flame of their Pampas fire and accompanying their meal with mate, a brewed herb drink passed from hand to hand and shared from a hollowed gourd.
Culture vulture Buenos Aires is no stick-in-the-mud when it comes to traditional festivities either. There's dressing up and street parades during February's Carnaval, but remember to pack your umbrella as water bombs are let fly. The tango hits the street in March during the B.A. Tango Festival, giving visitors the best opportunity to watch superb demonstrations of the red-hot dance. National Tango Day is December 11, birthday of the legendary tango singer Carlos Gardel.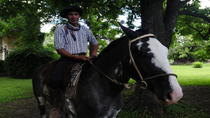 231 Reviews
Experience a 'fiesta gaucha' (gaucho party) on this full-day tour from Buenos Aires to Estancia Santa Susana, a traditional ranch in the Argentina countryside. ... Read more
Location: Buenos Aires, Argentina
Duration: 8 hours (approx.)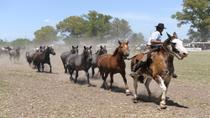 96 Reviews
Spend a day in the Argentina countryside on this full-day tour from Buenos Aires to Estancia Don Silvano, a traditional ranch where you'll enjoy a full 'fiesta ... Read more
Location: Buenos Aires, Argentina
Duration: 8 hours (approx.)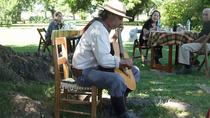 30 Reviews
Enjoy a full-day, shared tour and visit the town of San Antonio de Areco and Estancia El Ombu de Areco, which is one of the most traditional in the Pampas. You ... Read more
Location: Buenos Aires, Argentina
Duration: 9 hours (approx.)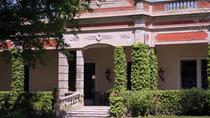 16 Reviews
Enjoy a small-group tour from Buenos Aires to San Antonio de Areco and have a chance to see the pampas as you drive there. You will tour the village, visit a ... Read more
Location: Buenos Aires, Argentina
Duration: 9 hours (approx.)