Busan Beaches
By Viator, August 2014
As Korea's second largest city and most important port, Busan has always maintained close ties with the sea, so visiting this stunning coastal city also means exploring this relationship in greater depth. Most tourists, both Korean and foreign, come to Busan for its beaches. While Haeundae Beach is the most famous, the city offers several options to suit every beach-goer's style. Songjeong Beach on the eastern side of the city has tranquil, shallow waters excellent for swimming, while Gwangalli Beach attracts visitors with its powdery fine sand. It also serves as the stage for the annual Busan Ocean Festival. Dadaepo Beach, another great beach for families, transforms into an open-air music venue each summer during the Busan International Rock Festival.
Even away from the beach, Busan's ties with the sea are evident. South Korea's largest seafood market, Jagalchi Fish Market, can be found in Busan and sells just about every type of seafood. The indoor and outdoor market also houses restaurants that will carve, cook and serve your purchases to you minutes after you've bought them.
Busan also has a couple of attractions celebrating ocean life, including the Busan Aquarium, which is located right on Haeundae Beach and features three floors of exhibits and more than 35,000 varieties of marine life. The Eulsuk-do Bird Sanctuary covers the area where the Nakdong River empties into the South Sea and protects an important habitat for migrating species of coastal birds who visit from October to March.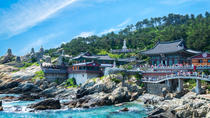 2 Reviews
With so many sights to see in Busan, a full-day guided tour provides a great overview. Your knowledgeable local guide accompanies your group to top locations ... Read more
Location: Busan, South Korea
Duration: 8.5 hrs (approx.)