Byron Bay has all the eclectic and peaceful beach town vibe and all the right beaches to make it a proper surfing getaway. Tourists and first-timers will head to the waters around Byron Bay to take their first shot at riding the waves. Besides a visually appealing environment, it is true that the waters around Byron Bay are a bit calmer since Cape Byron protects them from the southerlies.

In addition, several of the beaches have unique breaks to which surfers flock. Near Belongil, The Wreck offers decent waves off the break caused by an old shipwreck.  Lennox Head, about 15 minutes towards the south, offers a right-hand break that repeatedly gets it listed as one of the top 10 in all of Australia (and there are over 10,000 beaches on this country). Because of this, Lennox Head was named a National Surfing Reserve in 2007. Do keep in mind that the famous break here is also very powerful:  beginners beware.

The Pass happens to be a local favorite for surfing given its accessibility and waves great for both long boards and short boards. Just be sure to learn the rules of surfing and share the waves as there are bound to be a number of keen surfers at this beach at any given time.

Several surfing schools call Byron Bay home, but when choosing, do some research. There are only a handful of surf schools that are legally able to use the city beaches for their classes; others have to drive 30 minutes away to give a proper lesson.

To make the most of your Byron getaway as a surfing newbie, try to book a lesson at the beginning of your trip so that you can use the new skills to continue surfing for the remaining part of your holiday.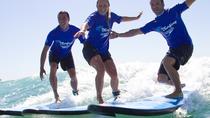 2 Reviews
Learn to surf in Byron Bay, one of Australia's best places to practice the art of surfing. Guided by a qualified instructor, learn how to 'hang ten' at a ... Read more
Location: Byron Bay, Australia
Duration: Flexible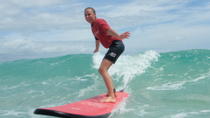 2 Reviews
Take the ultimate surfing lessons while in Byron Bay with local Byron Bay Surfer/Instructor 'Gaz Morgan. Gaz is the owner of this Bryon Bay Surfing School and ... Read more
Location: Byron Bay, Australia
Duration: 3 hours 30 minutes (approx.)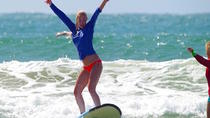 Welcome to the exciting world of surfing! If you want to learn to surf then a one-on-one surfing lesson is the way to go! The instructors at this surf school ... Read more
Location: Byron Bay, Australia
Duration: 3 hours (approx.)