391 Reviews
Address:

Pier Marina, Pier Point Road, Cairns 4870, Australia

Admission:

Free
The Great Barrier Reef is Australia's greatest natural treasure, and the world's largest coral reef. This underwater wonderland stretches for 2,300 km (1,426 miles) from Bundaberg to Australia's northernmost tip. At its closest, it's only 30 km (18.5 miles) away from the Queensland coast.
The Great Barrier Reef encompasses almost 3,000 individual reefs. Their multi-colored beauty is made up of 400 types of living and dead coral polyps, home to around 1,500 species of fish, 4,000 breeds of clams, 500 types of seaweed, 200 species of birds, 1,500 different sponges and half a dozen varieties of turtles.
The Great Barrier Reef is also dotted with around 900 islands, including coral cays such as Green Island and Heron Island, along with the Whitsundays sand islands. Fringing reefs surround the islands, while the outer reef faces away from the mainland and islands and out to sea.
Practical Info
The best way to experience the Great Barrier Reef is on a snorkeling day cruise from Cairns, Cape Tribulation, Port Douglas or Townsville. The water is at its clearest from April to October. Sightseeing cruises also sail out to sea for a day of fish feeding, reef education and underwater safaris.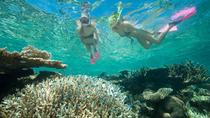 453 Reviews
Make the most of your visit to the Great Barrier Reef on a full-day tour by fast boat, with five hours to enjoy two premium spots on the reef with snorkeling ... Read more
Location: Cairns, Australia
Duration: 8 hours 30 minutes (approx.)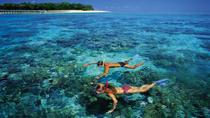 423 Reviews
Cruise to Green Island from Cairns and find a tropical paradise on the Great Barrier Reef. You'll spend either four or five hours at Green Island, with plenty ... Read more
Location: Cairns, Australia
Duration: Varies
89 Reviews
Over three days, experience the best of tropical Far North Queensland! Go diving or snorkeling on the Great Barrier Reef, ride the Kuranda Scenic Railway and ... Read more
Location: Cairns, Australia
Duration: 3 days (approx.)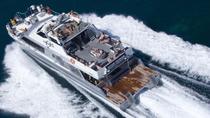 80 Reviews
Explore the Great Barrier Reef aboard a sleek, luxury catamaran on this snorkel and dive cruise from Cairns! Spend six hours on the Great Barrier Reef at two ... Read more
Location: Cairns, Australia
Duration: 9 hours (approx.)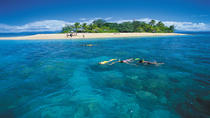 48 Reviews
Not a confident swimmer, but want to experience the Great Barrier Reef? At Low Isles you can snorkel straight off the beach, enjoy coral viewing on a glass ... Read more
Location: Port Douglas, Australia
Duration: 9 hours (approx.)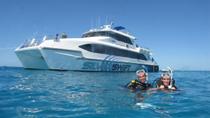 35 Reviews
View the colorful underwater world of the Great Barrier Reef on this full-day trip from Cairns. Whether you are a snorkeler or a scuba diver, experienced or a ... Read more
Location: Cairns, Australia
Duration: 10 hours (approx.)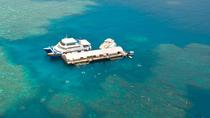 38 Reviews
Cruise out to a moored pontoon on the Great Barrier Reef, and enjoy a day packed full of activities, both in and out of the water. Go snorkeling with the ... Read more
Location: Cairns, Australia
Duration: 8 hours (approx.)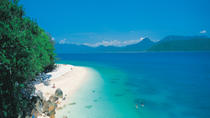 132 Reviews
Escape to Fitzroy Island, a tropical island on the Great Barrier Reef located only 45 minutes by high-speed ferry from Cairns. Spend your day doing as much or ... Read more
Location: Cairns, Australia
Duration: 8 hours 30 minutes (approx.)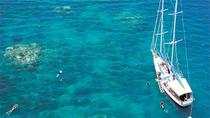 18 Reviews
Swim, snorkel or dive in the pristine waters off Green Island on the Great Barrier Reef. From Cairns, sail to the island in style on a two-mast schooner and ... Read more
Location: Cairns, Australia
Duration: 9 hours (approx.)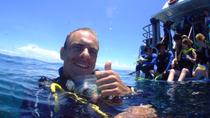 6 Reviews
Take the opportunity to learn to dive while you're in Cairns! With classes limited to eight participants, led by professional and friendly instructors, you'll ... Read more
Location: Cairns, Australia
Duration: 4 days (approx.)