Want to feel like you're in The Matrix? Want to feel invincible? Want to feel like you're able to leap tall buildings in a single bound? Sounds like you might be just the kind of person who wouldn't mind a bit of the ol' bungy jumping.
Bungy jumping has its roots in the 'land divers' of Pentecost Island in Vanuatu – young men who would jump from high wooden platforms with only tree vines tied to their ankles. It was marked as a test of courage and a passage into manhood. Modern bungy jumping took off in the late 1970s thanks to a suspension bridge in Bristol, England and a few members of the Oxford University Dangerous Sports Club, but commercial bungy jumping as modern-day adrenaline junkies know it began in New Zealand in the mid-1980s and is still an extremely popular tourist draw.
Just why is bungy jumping – a potentially terrifying experience – so popular? Because it's an unforgettable rush. You will never get that sense of freefall and rebound anywhere else. Plus a lot of bungy jumping sites are set within some utterly spectacular landscape and you start thinking, well, why not?
If you find yourself in the lush surrounds of Cairns, in Queensland, you've got some great opportunities to bungy. You can get unbeatable views of the rainforest and the reef before taking the plunge on Australia's most famous bungy jump. Feel the adrenaline thunder through your veins as you take a leap of faith from Cairns Bungy Tower, one of the first and best bungy sites in Australia.
If you've faced your fear, done the jump, and gotten just a little hooked on the adrenaline, why not follow it up with a Minjin Jungle Swing? You'll get in a harness and be winched 45 meters up above the jungle. Then you choose when to release a mechanism that sets your swing swinging – at speeds of up to 100 kph (62mph)!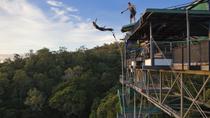 24 Reviews
Leap into an adrenaline-fueled adventure with a bungy jump or Minjin Swing at the Cairns Bungy Tower, located in lush rainforest with views of the Coral Sea ... Read more
Location: Cairns, Australia
Duration: Varies