Tropical Cairns puts you in the ideal position to enjoy the splendor and beauty of Australia's Great Barrier Reef.

The Great Barrier Reef is the largest coral reef on the planet, covering an amazing 2,900 reefs, 900 islands and 2,600km (1,600 miles).

The reef is home to an incredible diversity of sea creatures, from whales, dolphins and sea turtles to dugongs, crocodiles, seabirds and Nemo clownfish.

The best way to view the reef is from the water, and the top location for your Great Barrier Reef experience is Cairns, the reef's most easily accessible major tourism hub.

Cairns offers the best selection of reef tours, cruises and activities, tailor made for beginners through to experienced divers. Diving locations from Cairns include Green Island, Upolu Reef, Oyster Reef, Agincourt Reef and Low Isles. Take your pick of half-day boat trips, full-day snorkeling cruises and multi-day tours.

Green Island is an easy half-day or day trip from Cairns, just 27km (16.5 miles) offshore. The sandy coral cay is ringed by reef for easy snorkeling and you'll swim with several types of turtles. Or you can stay dry and view the Great Barrier Reef from a glass-bottom boat or semi-submersible submarine.

For the best visibility, head to the Outer Reef to snorkel from a moored pontoon or luxury catamaran, then refuel with a gourmet buffet or barbecue lunch. All equipment is included for certified divers, and beginners can take an introductory dive with the assistance of diving professionals.

For a more in-depth experience, combine Great Barrier Reef cruising and two nights at a Green Island resort on a Three-Day Reef Trip from Cairns. Or choose three full-day cruises and create the ultimate Reef Cruise Pass – Green Island, Low Isles, the Outer Reef, it's your choice!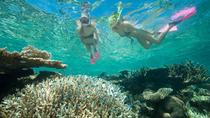 463 Reviews
Make the most of your visit to the Great Barrier Reef on a full-day tour by fast boat, with five hours to enjoy two premium spots on the reef with snorkeling ... Read more
Location: Cairns, Australia
Duration: 8 hours 30 minutes (approx.)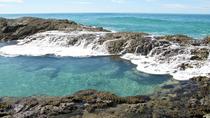 14 Reviews
Spend your days exploring Queensland's wild treasures, and your nights at beach resorts, on a guided 5-day tour to Fraser Island and the Great Barrier Reef. On ... Read more
Location: Brisbane, Australia
Duration: 5 days (approx.)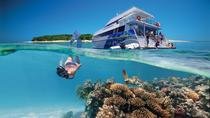 20 Reviews
Enjoy this 3-day guided tour of the Great Barrier Reef. Spend two nights at a beach resort, and take a day trip to Lady Musgrave Island for a slice of paradise ... Read more
Location: Brisbane, Australia
Duration: 3 days (approx.)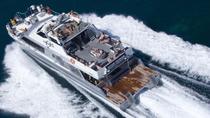 84 Reviews
Explore the Great Barrier Reef aboard a sleek, luxury catamaran on this snorkel and dive cruise from Cairns! Spend six hours on the Great Barrier Reef at two ... Read more
Location: Cairns, Australia
Duration: 9 hours (approx.)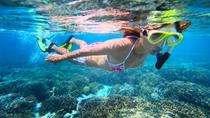 63 Reviews
Spend two days exploring the very best of Cairns. Enjoy a full day in tropical Kuranda and on your second day discover why the Great Barrier Reef is one of the ... Read more
Location: Cairns, Palm Cove and Northern Beaches, Australia
Duration: Valid for 2 days over a 7 day period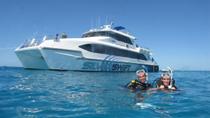 37 Reviews
View the colorful underwater world of the Great Barrier Reef on this full-day trip from Cairns. Whether you are a snorkeler or a scuba diver, experienced or a ... Read more
Location: Cairns, Australia
Duration: 10 hours (approx.)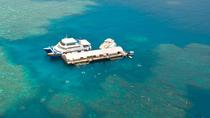 40 Reviews
Cruise out to a moored pontoon on the Great Barrier Reef, and enjoy a day packed full of activities, both in and out of the water. Go snorkeling with the ... Read more
Location: Cairns, Australia
Duration: 8 hours (approx.)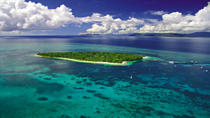 54 Reviews
Your 2-Day Reef and Rainforest Package Combo will take you to the two extremes of Tropical North Queensland during your stay in Cairns. Spend a day ... Read more
Location: Cairns and Northern Beaches, Australia
Duration: 2 days (approx.)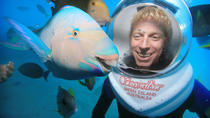 17 Reviews
Explore the beauty of the Great Barrier Reef on a day trip to Green Island from Cairns, including an amazing and easy underwater experience with the Seawalker ... Read more
Location: Cairns, Australia
Duration: 8 hours (approx.)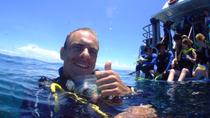 7 Reviews
Take the opportunity to learn to dive while you're in Cairns! With classes limited to eight participants, led by professional and friendly instructors, you'll ... Read more
Location: Cairns, Australia
Duration: 4 days (approx.)