Calling all adrenaline junkies! In the mood for some white water rafting? Conditions are great in North Queensland! Rafting in North Queensland has the added advantages of departures all year round, tropical water temperatures, ease of access and breath-taking scenery and rapids.
Want to get your toes wet? How about spending a half-day white water rafting down the Barron River? It's just 20 minutes north of Cairns, offers spectacular scenery including the spectacular Barron Falls, which are considered a sacred site.
This heart-thumping ride spears through The Barron Gorge National Park and the World Heritage-listed Wet Tropics. In the calmer sections you'll be able to enjoy the world's oldest rainforest and waterfalls from a unique waterline perspective. You'll also discover why the Barron's rapids have names such as 'Rooster Tail', 'Cheese Churn' and 'Hell's Gate'! These rapids are classified grade 3.
If a half-day of rafting sounds like child's play to you, then a full-day tour on the Tully River might be more your speed. The Tully River rafting adventure, one of Australia's most popular rafting excursions, winds through World Heritage Rainforest and offers rapids up to grade 4. You'll raft over more than 45 rapids through World Heritage rainforest. Rapids include the unforgettable 'Alarm Clock', 'Wet and Moisty', 'Stair Case' and the dramatic 'Theatre'. Recharge your batteries with a riverside BBQ lunch before diving back in to the afternoon's remaining grade 4 rapids.
Tully is 87 miles (140 kilometers) south of Cairns – it's a scenic journey through cloud-covered coastal mountains, clear rivers and sugar cane fields.
All you need to bring is lace-up shoes (that WILL get wet), swimming costume and towel (put your costume on before you get picked up), a spare change of clothes, some 15+ sunscreen and an appetite for adventure.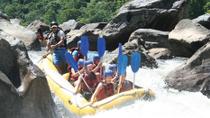 35 Reviews
Seeking a white water rafting adventure? The Barron River, 20-minutes north of Cairns, offers spectacular scenery including the Barron Falls on this two-hour ... Read more
Location: Cairns, Northern Beaches, Australia
Duration: 3 hours 30 minutes (approx.)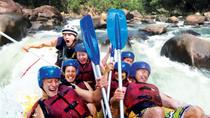 78 Reviews
Want to go white water rafting on your vacation to Tropical North Queensland? Go rafting on the the Tully River on this action packed full-day white water ... Read more
Location: Cairns, Northern Beaches or Palm Cove area
Duration: 12 hours (approx.)